Is David Becker '75 In Line to Become Indiana's Lieutenant Governor?
October 8, 2003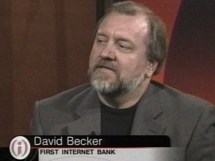 October 8, 2003, Greencastle, Ind. - "Gov. Frank O'Bannon made history in 1996 when he told voters how he had 'hot-wired' the old barn he restored to live in at Corydon for the Internet age. Now Gov. Joe Kernan may be looking to give his fledgling administration a high-tech jolt of his own," writes Brian A. Howey in the Indianapolis Eye, a weekly online news magazine. "A number of names have been bandied around in political circles and newspaper columns since Gov. O'Bannon's death on September 13 and Kernan's ascension to power. Now facing the task of selecting his own lieutenant governor, the name of David B. Becker has surfaced." Becker, a high-tech entrepreneur, is a 1975 graduate of DePauw University.
Howey's story continues, "Several sources tell the Eye that Gov. Kernan's staff has requested background materials on Becker, and while that is not conclusive evidence of a selection, it is revealing as to where Kernan might be headed with his historic appointment that will be ratified by the Indiana General Assembly on October 20...
Becker has confided in friends that he would not be interested in serving beyond the next 15-months of the term Kernan is finishing out. More revealing is that someone like Becker would give Kernan the high technology outlook that he believes will restore Indiana's flagging manufacturing economy."
The article notes that "Becker, a DePauw University graduate, has been a catalyst in the development of the Indiana high-tech sector. Since 1981, Becker has been involved in five technology-related companies: RDS, AmeriCard, First Internet Bank of Indiana, Inception and DyKnow. According to Purdue University, 'These companies employ 200 people and generate $50 million a year in revenue.' Becker is on the board of the Indiana 21st Century Research & Technology Fund; he headed TechPoint,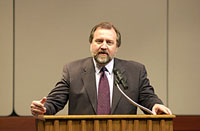 a statewide association for the high-tech community; he served on Gov. O'Bannon's High-Tech Task Force; he chairs DePauw's McDermond Center for Management and Entrepreneurship; and he sits on the advisory board of the DePauw Information Technology Associates Program. Becker's First Internet Bank, where he is CEO, had deposits of $250 million in March 2003 and $323 million in assets with customers in all 50 states."
You can read the entire story online by clicking here.
Back