American Chemical Society Award to DePauw Chemistry Club
October 12, 2003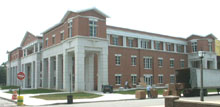 October 12, 2003, Greencastle, Ind. - The American Chemical Society (ACS) Student Affiliates chapter at DePauw University has been selected to receive a "Commendable Award" for its chapter activities conducted during the 2002-03 academic year. The DePauw chapter will be honored at the 227th ACS National Meeting in Anaheim, California on March 28, 2004, and the award will be noted in Chemical & Engineering News, the Society's official national newsmagazine and in Chemistry, the Student Affilates magazine.
In notifying Bryan Hanson, chair of DePauw's chemistry department of the award, American Chemical Society President Elsa Reichmanis wrote, "Professor David Roberts, faculty advisor of the chapter, deserves special commendation. Few faculty members are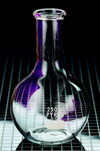 willing to make the great commitment of time and energy that a successful chapter requires of its advisors. It takes more than exceptional effort to be an award-winning chapter; it takes the nurturing attention of a dedicated adviser. Professor Roberts' efforts certainly represent the best in undergraduate science education and mentoring around the country." Reichmanis closed the letter by thanking DePauw "for fostering an environment in which such important extracurricular education activity can flourish."
There are more than 900 ACS Student Affiliates chapters at colleges and universities in the United States and Puerto Rico. Visit the DePauw Chemistry Club's Web page by clicking here.
Back