British Magazine Lists Ann Sparenberg Hand '90 Among Top Business Leaders Under 35
October 13, 2003
October 13, 2003, Greencastle, Ind. - Ann Sparenberg Hand, a 1990 graduate of DePauw University, "has been named to a British magazine's list of top 35 business women 35 years old or younger," notes the Star Press of Muncie, Indiana, Hand's hometown newspaper. "The list was the third annual compilation by Management Today. Hand is in charge of marketing at BP Amoco Liquid Petroleum Gas for an 11-country region. Married to Peter Homek in November, she continues to use a name from her first marriage that is familiar to the European business community. The couple both work for BP."
The story continues, "Hand worked for Mobil Oil in Philadelphia and D.C. after graduating from DePauw University, Then she worked for McDonald's Corp. atits headquarters outside Chicago. She has been with BP Amoco for more than 6 years -- in Chicago, in Hong Kong, and in London for the past 4 years." Writer Michael McBride notes that Hand was "influenced by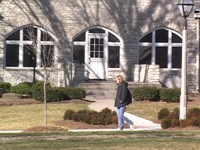 successes of three older sisters, also graduates of Northside and DePauw."
Ann Hand tells the newspaper, "A liberal arts degree gives you the flexibility to change careers often. How are you supposed to know at age 18 what you want to be forever? Go to a college that has a high placement rate for graduates, start working, and [then] be willing to move in the early years. If you achieve the right momentum in your 20s it will carry you into your 30s."
Read the article in its entirety by clicking here.
Back