Baltimore Sun Profiles Editor Mary Madison '84
December 7, 2003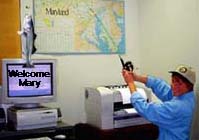 December 5, 2003, Greencastle, Ind. - "Lawyer, writer, bartender, Zen Buddhist, environmentalist and fierce defender of bay watermen -- Mary Madison's one of the more interesting people to emerge on the Chesapeake scene," begins a Baltimore Sun profile of Madison, editor of the Waterman's Gazette and a 1984 graduate of DePauw University. Madison oversees a newspaper that is published by the Maryland Watermen's Association, which represents the state's commercial crabbers, fishermen and oystermen. The article by the Sun's Tom Horton states, "Mary Madison has made the Waterman's Gazette a valuable voice in discussions on the future of the Chesapeake.
Horton writes, "I've read the Gazette for more than 20 years, but often I would spend about a minute doing it. Since Madison took over a few years ago, that's changed. A recent series on sewage treatment in Maryland and its impact on water quality and watermen was as incisive and comprehensive as anything in the state's leading newspapers."
Bill Goldsborough, senior fisheries scientist at the Chesapeake Bay Foundation, agrees. "Mary's great," he tells the newspaper. "She's made the Gazette into a voice to be listened to. She's broadened its horizons, and elevated the debate."
The story continues, "Madison, once a Buddhist monk in California, deflects such praise with a couple of favorite Zen expressions, such as 'Working hard, accomplishing nothing' and 'Boldly going nowhere.' She also takes to heart these words of Henry David Thoreau: 'We love to hear the sayings of old sailors and their accounts of natural phenomena, which totally ignore, and are ignored by, science.' 'What I try to do,' she explains, 'is promote understanding of science, to educate watermen, and also to have their 'anecdotal' accounts recognized as valid.'"
The feature notes Madison's degree in English from DePauw, and her law degree from the University of California at Davis. "Her California years included a year at a Zen center -- she remains a practicing Buddhist -- and stints teaching environmental studies and working on an Indian reservation.
When illness in the family brought her home to Maryland a few years ago, she had a lucrative job offer from a law firm." Instead, an old friend, Larry Simns, president of the Maryland Watermen's Association, persuaded her to take the helm of the Gazette.
"These are trying times for bay watermen, who will face even more restrictions on their livelihood if water quality doesn't improve faster," Horton writes. "The Gazette is a small voice in the overall debate on the Chesapeake's future, but one well worth listening to." You can access the story in its entirety by clicking here.
Back