DePauw: A Pictorial History Now Accessible Online
December 22, 2003
Access the Pictorial History Online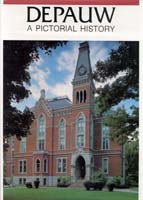 December 22, 2003, Greencastle, Ind. - Thanks to the efforts of DePauw University junior Stephanie Yee Loong, the revered book, DePauw: A Pictorial History is now available online. Written by emeritus professors of history Clifton Phillips and John Baughman, with assistance from professors Harold Spicer and John Schlotterbeck and Wesley Wilson, coordinator of DePauw University's Archives, DePauw: A Pictorial History was first published in 1987 and is prominently displayed in the bookshelves and on coffee tables of many alumni. Now, the text and photos are available to anyone at any time, with the click of a mouse.
"When Stephanie unveiled her online version of the book to me last week, I was amazed. She took an idea I had and created an impressive and very useable product," says Wilson. A member of the Information Technology Associates Program (ITAP), Stephanie Yee Loong had never attempted a project like this before.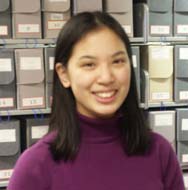 "But Stephanie is persistent and creative," Wilson states. For the project, which took more than a year to complete, the junior learned how to use Dreamweaver software, tracked down the original photographs used in the book, scanned them and built the pages one by one.
"The excellent work that Stephanie has done in putting the Pictorial History online has almost made it an entirely new work," says Dennis Trinkle, director of 361° Initiatives, coordinator of information services and technology, and Tenzer University Professor in Instructional Technology. "Many institutions have put their histories online. DePauw: A Pictorial History is one of the finest. The detailed narrative, engaging pictures, and wonderful stories make it impossible to resist. The first time that I looked at it, I could not pull myself away for two hours," states Dr. Trinkle, a 1991 graduate of DePauw.
Wes Wilson adds, "The new e-book edition of the Pictorial History is an attractive and useful resource that keeps the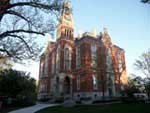 readers attention throughout. It is easy to navigate through the book from the tabs at the header and the bar on the right that lists links to the book's many sidebars. Stephanie also included links in the text to other parts of the book and has made it possible to enlarge photographs containing significant detail. The e-book edition will reach the audience who did not own or have access to the original book, making the work of Clifton Phillips and John Baughman available to many more people."
The online version of DePauw: A Pictorial History is accessible by clicking here. The print edition remains available through the DePauw University Bookstore (visit its Web site by clicking here.
Back