Associated Press Quotes Emeritus Prof. James Gammon
December 28, 2003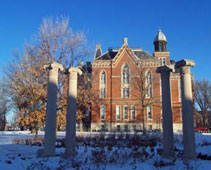 December 28, 2003, Greencastle, Ind. - "A late 1990s study of aquatic life along more than 100 miles of Wabash River tributaries, crisscrossing an area filled with hog farms of various sizes, found widespread contamination by hog excrement," notes an Associated Press story on environmental damage caused by runoff from farms.
"'We found every stream, practically from the first drop of water that went in it, was polluted,' said zoologist James Gammon, a retired DePauw University professor who has spent 35 years studying the Wabash River's

aquatic life. A three-mile stretch of one stream was devoid of aquatic life, Gammon said."
The complete article can be accessed at the Web site of Louisville, Kentucky television station WHAS by clicking here.
Back