Knoxville News Sentinel Profiles Dr. Brad Pearman '81
January 5, 2004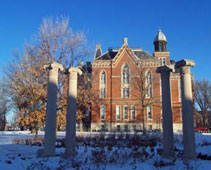 January 5, 2004, Greencastle, Ind. - "Brad Pearman grew up poor in rural Indiana. Scholarships and working multiple jobs got him through college. But fear kept him from pursuing his dream of becoming a doctor," begins a Knoxville News Sentinel profile of the 1981 DePauw graduate. "After working his way through Indiana's DePauw University, Pearman found himself intimidated by the idea of taking on a huge loan to pay for medical school." As a result, Doug Mason writes, Pearman opted to become a high school teacher. But over time, a career in medicine -- which Pearman had dreamed of since childhood -- was too great of a draw.
"Pearman was 30 when he began medical school, making him about eight years older than the average student. 'I think the advantage of being older was that I had other life experiences,' Pearman says. 'The graduate school experience, the teaching experience.' The former high school science teacher said his knowledge of chemistry and biology was often more current than that of his fellow med students. After becoming an assistant to his adviser, an ophthalmologist, Pearman decided to pursue that field of medicine. 'It was rather a lofty goal,' he says. 'It's one of the hardest (medical fields) to get into. There are about 400 spots and 20,000 applicants a year.'"
In 1997, after completing his internship and residency, Dr. Brad Pearman began his ophthalmology practice in Greenville, South Carolina. Four years ago, Pearman and his family moved to Tennessee, where he works with University Eye Surgeons, which has offices in Knoxville, Maryville and Morristown.
You can read the complete newspaper story, which includes a color photo of Dr. Pearman at work, by clicking here.
Back