Composer George Crumb in Residence at DePauw March 11-14
January 25, 2004
January 25, 2004, Greencastle, Ind. - Pulitzer Prize-winning composer George Crumb will be the featured artist for this year's "Music of the 21st Century" event, presented by the DePauw University School of Music, March 11-14. One of the most important and well-known composers in the world, Crumb is being celebrated internationally in 2004 in honor of his 75th birthday. The composer's music will be the focus of several concerts and a symposium during his stay in Greencastle. He will also work with DePauw student and faculty performers as they prepare performances of some of his most recognized pieces, as well as some newer and lesser-known works. All of the events are free of charge and open to the public.
Audiences throughout the world have been captivated by George Crumb's music. His works employ an imaginative exploration of instruments, vocal color, extended performing techniques and have a remarkable architectural control of time. They feature a richly evocative vocabulary of musical styles and allusions to the music of other composers. The pieces are also known for having dramatic, mystical, even ritualistic presence, and most importantly, direct emotional power.
The New Yorker opines, "Crumb's music is reflective [and] illustrative... the composer invites listeners to share his poetic thoughts and visions, to enter a private world of marvels' his method is essentially intimate."
A native of West Virginia, Crumb began composing as a teenager and gained global attention for a series of compositions written in the 1960s and 1970s. He has garnered nearly every major international award for composition, including a 1968 Pulitzer Prize for his Echoes of Time and the River, a Ford grant in 1976, the 1998 Cannes Classical Award for Best Compact Disc by a Living Composer, and the 2000 Grammy Award for Best Contemporary Composition ("Star-Child" from the 70th Birthday Album). Crumb's music has been performed and recorded by many of the leading artists of our time. All Music Guide writes, "American composer George Crumb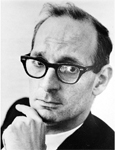 is particularly known for his striking, often delicate use of timbre, an original view of harmony and form which utilizes elements of the Medieval through Romantic periods, and a sensuous, ritualistic embrace of theatre and mythology; all inextricably linked to a decidedly non-western interpretation of time."
George Crumb has also dedicated much of his life to teaching. He taught theory and analysis at Hollins College, Virginia before being appointed as instructor and assistant professor in piano and composition at the University of Colorado, Boulder in 1958. From 1964-1965 he also acted as creative associate/composer-in-residence at the Buffalo Center for the Creative and Performing Arts, State University of New York, Buffalo. In 1965, he began a long association with the University of Pennsylvania, Philadelphia, where he was a professor before his retirement from teaching in 1997.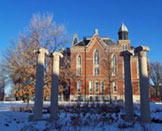 Amy Lynn Barber, Dean of the School of Music, who has worked extensively with Crumb and has organized international festivals, courses, and symposiums of his music in Europe and the United States, is the director of the "Music of the 21st Century" project, which began last spring with guest composer Tania Leon. "This is a once in a lifetime opportunity for us not only to hear this stunning music, but also to meet and interact with an extraordinary composer," said Barber.
For more information about this event or other upcoming School of Music events, call (765) 658-6732 or click here.
Back