Italian Escapades Abound in DePauw Opera, February 19-22
February 12, 2004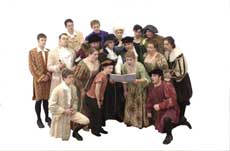 February 12, 2004, Greencastle, Ind. - Next week, the Moore Theatre stage will come alive with the annual DePauw University opera. This year, audiences will be treated to an evening of opera by two renowned composers, Giacomo Puccini and Robert Ward. Puccini's beloved comic opera, Gianni Schicchi, and Robert Ward's Roman Fever will be presented February 19 through 22 in the DePauw Performing Arts Center. A chamber orchestra will accompany the student performers as they present the two productions. Thursday through Saturday performances begin at 7:30 p.m. and the Sunday matinee starts at 2 p.m. (opera photos by Marilyn E. Culler)
Both opera productions this year are set in Italy. Gianni Schicchi takes place in Florence at the turn of 14th century. This short operatic comedy involves greedy relatives plotting to eagerly line their own pockets with family money intended for a monastery. The intensity grows when the man that they have hired to impersonate their nearly dead relative turns the tables on them. The recognized soprano aria "O mio babbino caro," made
popular through its repeated use in films and commercials, is featured in the opera.
Ward's Roman Fever is a relatively new opera based on the short story by renowned writer Edith Wharton (1862-1938). It weaves a tale about two upscale American widows in their forties as they discuss their lives, daughters and generational differences. The dramatic, one-act production is set on a vacation to Rome in 1924 in a terrace restaurant. The plot thickens when the women reminisce about their first ever visit to Rome, some twenty years earlier, the men that they met and the ensuing "Roman Fever." According to John Lambert from the Spectator, "Roman Fever melds music with drama in a manner reminiscent of the finest verismo operas, and sports an extraordinary quartet for four female voices that must surely rank among Ward's most moving moments." The creator of the opera, Robert Ward, is known best for his 1962 Pulitzer-Prize winning opera, The Crucible.
DePauw University had the pleasure of hosting Robert Ward in 1981 as a guest for the Contemporary Music Festival. He remarked on the musical abilities of DePauw students and faculty that he worked with during his stay. "The musicianship, the standard of musicality and concentration on the job in hand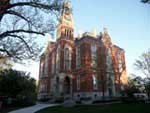 which you have instilled in your young performers are phenomenal," he noted. "All that, coupled with their friendliness and enjoyment of music-making, makes for an unbeatable combination."
Tickets for the opera are $7 for adults and $4 for students and are available at the DePauw Performing Arts Center Box Office. For more information, call (765) 658-6732, send an e-mail by clicking here, or visit the School of Music's Web page here.
Back