DePauw Students & Professor Return from Research Project in South India
February 13, 2004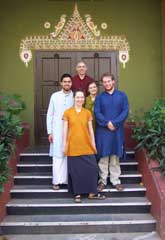 February 13, 2004, Greencastle, Ind. - A team of four DePauw students and their professor have recently returned to campus after spending almost a month in South India on a research project for ASIANetwork. Christian Campos, Stephanie Gurga, Mark Mooningham, and Shalon Schutt enjoyed the learning benefits of a $31,500 grant received by professor of music, Cleveland Johnson, for a project on "Popular Ragas in Contemporary Carnatic Performance."
Together with an on-site group of Indian assistants, the DePauw team covered almost 300 performances during the famous "Madras Festival" which takes place during December/January each year in the city of Chennai (formerly Madras), India. The approximately 2400 compositions performed in these concerts are being analyzed by the team to determine current trends in performance, including popular scales (raga), meters (tala), and composers. Results of this research will be presented in a School of Music convocation in March as well as at the annual convention of ASIANetwork in April.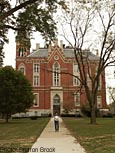 ASIANetwork is a consortium of about 150 North American colleges and universities with the mission "to strengthen the role of Asian Studies within the framework of liberal arts education to help prepare succeeding generations of undergraduates for a world in which Asian societies play prominent roles in an ever more interdependent world."
Paul B. Watt, professor and director of Asian Studies at DePauw, serves as chair of the board of directors of ASIANetwork (read more here).
Back