Debate Team Prepares for National Tournament
March 16, 2004
March 16, 2004, Greencastle, Ind. - DePauw's top debate team -- composed of senior Erich Taylor and sophomore J.J. Burns -- has ended the regular season on a strong note. The Tiger debaters took the top spot at the Notre Dame Invitational Tournament and placed third at the Delta Sigma Rho-Tau Kappa Alpha National Tournament held at the University of Alabama. Burns received individual recognition at both tournaments as the third place speaker at each event.
On April 7-10, DePauw's debaters will participate in their final event of the year, the National Parliamentary Debate Association National Tournament at California State University in Northridge, California, where they will compete against 312 teams representing 96 different colleges and univerities.
"We have enjoyed tremendous success this year, both in and out of our region, and now it is time for the big dance," says Geoff Klinger, assistant professor of communication arts and sciences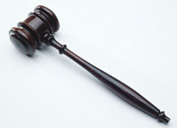 and coach of the debate team. "We are taking our top three teams, and know that we can hang with the best of them. The strong season our team is enjoying is a tribute to DePauw students and the type of education that flourishes here."
For more information, contact Dr. Klinger (who is a 1988 graduate of DePauw) by sending an e-mail here.
Back