Hollywood Casting Director Matthew Lessall '93 Subject of Backstage.com Story
March 17, 2004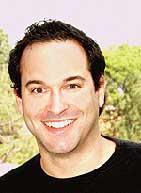 March 17, 2004, Greencastle, Ind. - "It was sort of your first mainstream, indie-film dream come true," says casting director and 1993 DePauw University graduate Matthew Lessall of Mean Creek, a feature film that was screened at Sundance Film Festival this year and has been picked up for distribution by Paramount Classics. A lengthy profile of Lessall is featured on Backstage.com. (photo by Ed Krieger)
The story notes that "The London-born, New York-raised Lessall began his career as an actor, studying at the London Academy of Music and Dramatic Art and working for four or five years in Europe," and, after developing an interest in casting, he worked on commercials, music videos, and short and low budget films. Mean Creek, which stars Rory Culkin, is Lessall's first feature to receive distribution. He's currently casting a remake of the 1960's television drama Dark Shadows.
As Lessall "found his cast -- which also includes Scott Mechlowicz (Eurotrip), Josh Peck (Nickelodeon's Drake and Josh), and Carly Schroeder (Lizzy McGuire) -- he had to lock down availability with agents, assuring them that the quality of the roles in this low-budget indie would make up for the initial pay cut. 'I was very passionate about the film,' says Lessall. 'I believed in it, and everything I was saying to the agents

came from a place of truth. I'm sure the agents were like, 'Who is Matt Lessall, and why should I believe him?' But the piece was written so wonderfully. And with Jacob [Aaron Estes]'s directing style and the team around him, I knew that this had really good potential and it just required the cast that we finally ended up with."
Read the complete article by clicking here. Read more about Mean Creek here and here.
Back