Prof. Matt Hertenstein Published in Child Development
April 21, 2004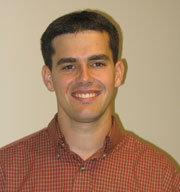 April 21, 2004, Greencastle, Ind. - Matthew J. Hertenstein, assistant professor of psychology at DePauw University, is co-author of an article in the March/April 2004 edition of the journal Child Development. "The Retention Effects of an Adult's Emotional Displays on Infant Behavior" -- by Dr. Hertenstein and Joseph J. Campos, department of psychology at the University of California, Berkeley -- is the result of research funded, in part, by a grant from DePauw's Faculty Development Program.
"The goal of this investigation was to study the regulatory retention effects of an adult's emotional displays on infant behavior," states an abstract of the article. "In Study 1, 11- and 14-month-old infants were tested in a social-referencing-like paradigm in which a 1-hour delay was imposed between the exposure trials and the test trial. In Study 2, 11-month-olds were tested in the same paradigm, but the delay between the exposu
re trials and the test trial was only 3 minutes. Study 1 revealed that 14-month-olds, but not 11-month-olds, demonstrated behavior regulatory effects toward the target object linked to the adult's emotional displays. Study 2 indicated that 11-month-olds were affected by the emotional displays if the delay between exposure and test trials was brief enough."
Access the article in its entirety at Child Development's Web site by clicking here (a subscription is required).
Visit Professor Hertenstein's Child Study Center at DePauw by clicking here.
Back