Junior "More Confident and Educated" After Semester-Long Internship on NBC's Today
May 24, 2004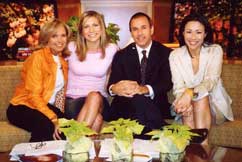 May 24, 2004, Greencastle, Ind. - "At the Today show, I often found myself in the middle of it all. When people ask me what I did during my internship, I often find it hard to answer. I did a little bit of everything," writes Erin Greenlee, who spent this past semester as an intern on the NBC morning news program. A Media Fellow who just completed her junior year, Greenlee says, "Thanks to those who have interned before me, DePauw already has a great reputation at Today. For this reason, I was quickly put with one of the top entertainment producers to begin working on projects."
Greenlee says she spent the spring working "with agents, PR representatives, bookers, hair and make up artists, personal assistants, and celebrities. After awhile, an interview at the Essex Hotel with an actor, actress, or musician was just another day on the job. I found myself on the red carpet during the Rock and Roll Hall of Fame induction ceremony,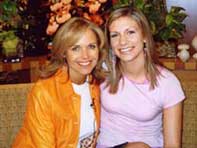 and in the Trump International Hotel, rounding up the apprentices on the day of the hit reality show's finale."
"Erin's experience is not unusual for the Media Fellows," says David A. Bohmer, a 1969 DePauw graduate who directs the program. "We have strong relationships with a number of media outlets -- including Today, C-SPAN, MSNBC, ESPN and radio's nationally syndicated Bob and Tom Show-- because of the great track record they've had with our students. It says a lot about our Media Fellows and DePauw that organizations keep coming back for more of our interns."
Greenlee says of her semester in New York City, "I have met people and made contacts that will surely prove beneficial after graduation.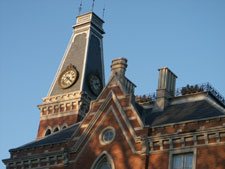 Most importantly, I have learned that in any field, of the media or otherwise, success comes to those who are willing to work hard and take risks. My internship was successful not because I met Snoop Dogg (which was cool), not because Katie (eventually) called me by name, but because I allowed myself to dive into something I knew little about, and emerged a more confident and educated individual."
Read more by clicking here. For information on the Media Fellows program, click here.
Back