DePauw Cycling Team Finishes Fifth at National Championships
May 25, 2004
May 25, 2004, Greencastle, Ind. - The DePauw University Cycling Team finished fifth in the nation in Division II of the National Collegiate Championships over the weekend, the squad's second straight #5 showing and its fourth podium finish in the past five years. The team spent the entire season ranked #1 in the midwest with a large lead over runners-up University of Wisconsin-Whitewater and Northwestern University.
"We had our best season ever, since starting the team in 1996," says Kent Menzel, associate professor of communication arts and sciences and coach of the cycling team. "With the arrival of several freshman and sophomore riders, we were able to nearly double our scoring productivity from the previous year. This scoring power allowed us to dominate the Division II schools in the Midwest region like never before."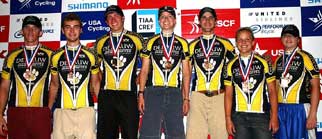 The DII national championship field was 32 schools strong, representing 10 conferences in the United States. All teams in the field are even at the start of the three race event (criterium, road race, and team time trial). Both men and women have separate races, but the team results are combined.
At the national championship, sophomore Carol Hutton recorded DePauw's first-ever individual podium finish with her sprint to 5th in the criterium, held on State Street in Madison, Wisconsin. Hutton ended up as the 9th ranked rider in thenation. In the team time trial, which started and finished from the Trek Bicyles plant in Waterloo, Wisconsin, DePauw's women placed 3rd, only 19 seconds away from a national championship.
The top five finishers at the national championships were Dartmouth College, Whitman College, Lees McRae College, United States Air Force Academy and DePauw University.
DePauw's team was led during the season and at the national championship by sophomores Hutton, Jenna Boyd and Phil Mann, along with senior Matt Allen. Rounding out the national team were sophomore Crissy Harter, senior Danny Moore, and sophomore Phil Mooney. "With a solid group of freshman and sophomore racers, we definitely have national champion aspirations for seasons to come," Dr. Menzel says.
A Cycling News story on the national championships mentions DePauw's riders. You can access the article by here.
Back