American Naturalist Publishes Research of Two DePauw Professors
June 4, 2004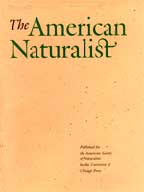 June 4, 2004, Greencastle, Ind. - "The Ecological Genetics of Conditional Strategies" -- an article by Wade N. Hazel, professor of biology at DePauw University; Richard C. Smock, professor of mathematics at DePauw; and Curtis M. Lively, professor of biology at Indiana University -- appears in the June 2004 issue of the the American Naturalist. Published for the American Society of Naturalists by the University of Chicago, American Naturalist is one of the world's most prestigious biology journals.
"Conditional strategies are traits in organisms that can take different forms depending on the circumstances in which the organism finds itself," Dr. Hazel (seen below right) explains. "Most behavioral traits are conditional (e.g. the 'flight or fight' response), as are a surprising number of morphological and physiological traits. For example, moth larvae can look like either a flower or twig, depending on whether they eat flowers or leaves, and some aquatic invertebrates grow spines that protect them from a predator only when they detect the presence of the predator. In the paper, we develop some theoretical (mathematical) models that shed some light on when
conditional strategies are expected to evolve and why they turn out to be so common."
In his review of the article, American Naturalist's associate editor writes that the model, "turns out to provide many important insights and will, I think, stimulate more research into conditional strategies. This is a wonderful example of conceptual unification and the power of collaboration." Funding for the research was provided by the National Science Foundation and DePauw's Faculty Development Program.
Read an abstract of the article, which contains a link to the complete text, by clicking here.
Back