Prof. Tom Chiarella Publishes Thursday's Game: Notes from a Golfer with Far to Go
June 10, 2004
June 10, 2004, Greencastle, Ind. - Tom Chiarella, associate professor of English and golf writer for Esquire magazine, "has befriended golf professional John Daly and walked the putting green with actor Billy Crudup," Abby Tonsing writes in today's edition of Greencastle's Banner-Graphic. Chiarella's latest book, Thursday's Game: Notes from a Golfer with Far to Go, has just hit bookstores. In a profile of the professor/author/golf lover, Tonsing notes that "Chiarella will be signing copies of his newest work from 1:30-3:30 p.m. Friday at Fine Print Bookstore in Greencastle." He'll also be on hand to greet alumni and sign books at the 33rd Alumni Golf Outing tomorrow at 11:30 a.m. at Windy Hill Country Club.
"I think the stuff that's good in the book is about playing here," Chiarella says of Windy Hill, the Greencastle course on which he and Tonsing played nine holes while she interviewed the colorful writer. "Coach Nick Mourouzis wanders onto the green from his backyard to say hello and compliments Chiarella on his ability to hit the ball 'long and straight'," Tonsing writes, adding that the book's "cast of characters [includes] Mike Sullivan of Marvin's fame and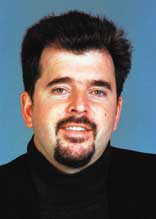 DePauw University professors David Field, Michael Sinowitz and Wayne Glausser."
"Even if you're not a golfer you can read and enjoy the book," Chiarella says. "Even if you don't play, it can relate to you." Read the complete story by clicking here. Learn more about Thursday's Game at Amazon.com and Barnes & Noble.com.
Tom Chiarella's Esquire article, "The $20 Theory of the Universe", is a 2004 National Magazine Award finalist. Read it here or here. His first collection of stories, Foley's Luck, was published by Alfred A. Knopf in 1992 to wide acclaim. He is also the author of a textbook, Writing Dialogue, published by Writer's Digest Books in 1998.
Back