DePauw Celebrates and Builds On Traditions at Alumni Reunion Weekend 2004
June 12, 2004
June 12, 2004, Greencastle, Ind. -

[DOWNLOAD VIDEO: "Class of '54 Gift Unveiled" 599KB] DePauw University's Class of 1954 has more than six million reasons to celebrate. At this morning's Alumni Reunion Celebration, the golden anniversary class announced cumulative gifts to DePauw (including Annual Fund and deferred commitments) of $6,502,640, the second largest golden anniversary total in University history. The 50th reunion class entered a darkened Kresge Auditorium carrying flashlights. As the house lights came on, the Class of '54 unleashed black and gold balloons and was showered with confetti.

[DOWNLOAD VIDEO: "Class of '54 Celebrates" 1624KB] .

[DOWNLOAD VIDEO: "Ruth Hawkins Biggs '54" 955KB] "50 years and here we are again,"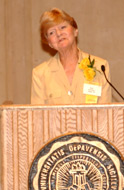 Ruth Hawkins Biggs, said to her classmates with a smile and a sigh. "As we hum [Andrew] Lloyd Webber's Wishing You Were Somehow Here Again, we know it's a fleeting fantasy. We've enlarged upon the DePauw experience in a thousand different ways, grateful for the guidance that helped us to grow on our own." Biggs, whose husband Alfred ('54) and four children are also DePauw graduates, looked out to the front rows of the auditorium and added,

[DOWNLOAD VIDEO: "A Salute" 577KB] "Here's to us -- the Class of '54 -- what we have been, what we are and best yet, what we are yet to be."
The second golden anniversary speaker, Ronald K. Holmberg, started the actuarial department at Combined Insurance Company of America and through his career held a rising succession of executive positions with the firm,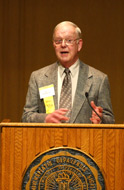 which became Aon Corporation in 1984.

[DOWNLOAD VIDEO: "Ronald K. Holmberg '54" 650KB] "DePauw is still a place where, regardless of economic circumstances, a qualified person can become a student," he said. Holmberg recalled receiving a Rector Scholarship, which

[DOWNLOAD VIDEO: "The Gift of Opportunity" 1060KB] "was the way I got here. Without it, and a job working in one of the dorms, I wouldn't have been able to be here. And that opportunity is enhanced today for students: not just because the Rector is still around, but because of other people who have followed the Rector example [and] made contributions to the Annual Fund."
Speaking for the Class of 1979, Meg Kissinger Boynton noted,

[DOWNLOAD VIDEO: "Meg Kissinger Boynton '79" 644KB]
"In the last quarter of a century, we've done a lot: we've raised families and buried parents; we've closed deals and opened businesses; and some of us are even packing our own kids off to college next year, and I'm a little jealous of that!"
Kissinger, a reporter for the Milwaukee Journal Sentinel since 1983, recalled her college years as a time after the Vietnam War and Watergate, when the world had "simmered down...

[DOWNLOAD AUDIO: "Remembering the 70's" 516KB] "But we did have a lot of fun here. And what a luxury to spend four years at what I know consider this place to be -- kind of a 'spa for the intellect.' Where else can you sit around all day and consider square roots and Spinoza, the musical theory of Mozart and the sex life of an inchworm? But that's what we did for four glorious years and we gobbled up strombolis and double garlic cheeseburgers. We cranked up our Hall & Oates albums, wore topsiders and Lacoste shirts, staged kiss-ins and spring formals, and connived a way to
get that damn Monon Bell back here on campus."
Kissinger concluded,

[DOWNLOAD VIDEO: "The DePauw Experience" 1400KB] "It's dawned on me over the last quarter century that this was really a marvelous place to be. We had tremendous professors who were not only well versed in their subject matter, but most importantly, cared about us as people. And I don't think a lot of schools can make that claim."
The Alumni Reunion Celebration included a special tribute to a DePauw legend, Robert H. Farber '35, vice president and professor emeritus of education.
"A jovial Dean Farber recalled coming to DePauw as a student in 1931

[DOWNLOAD VIDEO: "Robert H. Farber '35" 741KB] "and never got out." Farber served as a University administrator for 42 years, working under five presidents, before retiring as vice-president and dean of the University in 1979. In 1962, following President Russel Humbert's death; Farber served as chief executive officer and was acting president in 1976-77 prior to President Richard Rosser's appointment. A Rector Scholar while at DePauw, Farber was a recipient of the Old Gold Goblet, the University's most distinguished alumni award.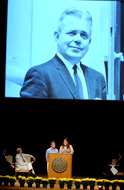 He was introduced today by his grandchildren, both DePauw graduates, Rob Farber '03 and Ann Farber '04.

[DOWNLOAD VIDEO: "The Dean Reflects" 1143KB] "Through green freshman cap and senior cords and generations of wonderful people, it's just been a great privilege for Vera May [Knauer Farber '36] and I to know DePauw and to see all the changes and to see DePauw get stronger and stronger through the years," Dean Farber said. His brief remarks were preceded and followed by long standing ovations.
In closing the event, DePauw President Robert G. Bottoms thanked Dean Farber for his kindness and counsel through the years, and alumni for their generous donations to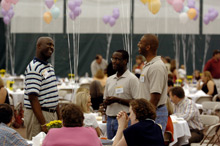 DePauw.

[DOWNLOAD VIDEO: "A Heartfelt Thanks" 791KB] "I know of no idea that comes up each year that would improve the University that doesn't take more funds, and the reason we grow better and better is because of people like you. Please accept our heartfelt thanks for your gifts and for your works."
Dr. Bottoms, who just completed his 18th year as DePauw's president, noted that many alumni have commented on "how different, and good, DePauw looks," but he assured them that many fundamental things about the University have not changed.

[DOWNLOAD AUDIO: "Building on Traditions" 687KB] "What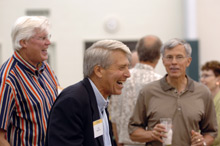 we are about is using our resources to help students have the opportunity to find themselves. I don't think I ever meet a young person these days that with integrity I can't say 'your life would be better if you could benefit from DePauw,'". Bottoms noted that about 15% of this fall's incoming class is composed of first-generation college students; young people whose parents are not college educated. He also talked of the partnership with the Posse Foundation, which brings about 20 talented inner-city scholars from New York City and Chicago to DePauw each year. "We have the buildings that you brag on, we have the faculty. So what are we about to do next? Continue on our tradition of having the goal to change student lives in a positive way, and for that we are unapologetic."
Back