Greencastle Technology Upgrade Will Provide New Opportunities for DePauw Students
August 16, 2004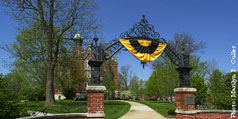 August 16, 2004, Greencastle, Ind. - DePauw students and faculty will benefit from an announcement that the Greencastle area will be getting broadband Internet access and other high-tech communication services. The United States Department of Agriculture (USDA) has approved more than $106 million in low interest rate loans to Cinergy MetroNet, a subsidiary of Q Comm Corporation, which will bring information age services to Greencastle and other rural communities in Indiana.
While the DePauw campus already has high-speed Internet access, the Greencastle announcement will enhance opportunities for members of the University community, according to Dennis Trinkle '91, DePauw's Chief Information Officer. "It should help with faculty and staff recruitment and retention and overall quality of life in town. More importantly, it should allow the community to grow more digital firms where DePauw students can intern and graduates can work."
Dr. Trinkle notes that the communication enhancements, which DePauw lobbied on behalf of Greencastle for four years, will create new opportunities under the Putnam County Economic Development Partnership Fund. The PCEDPF, created as part of a Lilly Endowment grant received last December, provides matching seed funds of up to $20,000 per year, as well as in-kind
services and support, to facilitate various economic development projects in Greencastle that connect to internship and educational opportunities for DePauw students (read more here). "It's very possible that DePauw students will be able to intern with Cinergy and be in on the ground floor as these improvements are put in place," Trinkle states.
Learn more about the USDA's announcement at the Web site of Inside Indiana Business by clicking here.
Back