Education Week Op-Ed Cites David McCullough's DePauw Lecture
August 16, 2004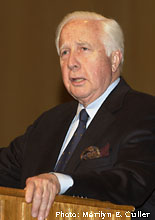 August 16, 2004, Greencastle, Ind. - In an editorial published in Education Week, retired public school teacher Tom Shuford offers several quotes from the 2002 DePauw University speech by David McCullough. A historian and best-selling author of John Adams and Truman, McCullough delivered The Timothy and Sharon Ubben Lecture on March 18, 2002 in Kresge Auditorium (read more and access video and audio clips by clicking here).
Shuford's essay focuses on Thomas Jefferson's vision of common schools. At DePauw, he notes, McCullough spoke of the founding fathers, and offers this excerpt from the Ubben Lecture: "They were steeped in, soaked in, marinated in, the classics: Greek and Roman history, Greek and Roman ideas, Greek and Roman ideals. It was their model, their example. And they saw themselves very much like the Greeks and the Romans, as actors on a great stage in one of the great historic dramas of all time... the fact that they all rose to the occasion and did what they did, accomplished what they did against the most horrendous odds, is the real miracle. And the more I know about that period, the more I read about it, and the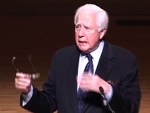 more I come to understand it, the more convinced I am that it's a miracle that the United States ever happened."
The op-ed is accessible at Education Week's Web site (a free registration is required) by clicking here.
The Ubben Lecture Series
has brought distinguished individuals to the DePauw University campus since 1986, including 2004 presidential candidate and retired General Wesley Clark, former British Prime Ministers Margaret Thatcher and John Major, General Colin Powell, Ross Perot, Spike Lee, Mike Krzyzewski, Harry Belafonte and ice cream entrepreneurs Ben & Jerry (seen in photo at right). To view a complete list of Ubben Lecturers, which includes links to video clips and news stories, click here.
Source: Education Week
Back