Marcus Robinson '94 Prepares to Open New Charter School With Strong Alumni Ties
August 17, 2004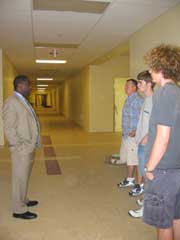 August 17, 2004, Greencastle, Ind. - Marcus Robinson, chief executive officer and principal of the Charles A. Tindley Accelerated School in Indianapolis and 1994 graduate of DePauw University, is quoted in an Indianapolis Star story published today. A ribbon-cutting ceremony was held at the new charter school yesterday. Kim L. Hooper writes, "Many Tindley students are underachievers who need a boost, Robinson said. 'Some of our kids have had rough and rocky times and just need extra support,' said the 32-year-old educator, who has taught at Cathedral High School and a suburban public school outside St. Louis. 'If that means we have to keep school open longer each day to accommodate a student's need, we'll do that. It's about the response,' he said." (top photo shows Robinson giving DePauw CTEP associates a tour of his school)
Hooper notes, "Students in Grades 8-12 will be served by the school, with 80 students chosen by lottery for each grade." Read the article by clicking here.
The Tindley School has strong ties to DePauw. Siri Ann Loescher '84 (pictured at right) is one of the school's three co-founders. Three DePauw alumni serve on the school's board of directors: John Neighbours '71 (board chair), Alan Hill '81, and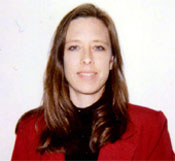 Kenya-Taray Delemore '96. Patrick Terry '94 is director of operations, and three DePauw alumnae -- Rosalie Pettigrew '96, Nickola Baker '94, and Maggie Coyne '99 -- are teachers at the school.
In June, DePauw's Community Technology Enhancement Program (CTEP) coordinated the delivery of fifty computers to the Tindley School. CTEP accepts donations of computers that are no longer needed by their previous owners, refurbishes them, and donates the machines to individuals and organizations who need them but may not have the financial resources to obtain them. Read more in this previous story.
Back