'Bright Sadness: Russian Icons from the Sinsky Collection,' at Peeler Art Center August 25 through December 5
August 19, 2004
Also: Work of Richard Lou on Exhibit September 1 - October 10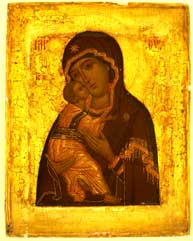 August 19, 2004, Greencastle, Ind. - "Bright Sadness," an exhibition featuring Russian icons from the private collection of Dr. John E. Sinsky, opens at DePauw University's Richard E. Peeler Art Center on Wednesday, August 25, and will remain on view through December 5. The galleries at the Richard E. Peeler Art Center are open Monday through Friday from 9 a.m. to 4 p.m.; Saturday 10 a.m.-4 p.m.; and Sunday 1-5 p.m. The exhibition is free and open to the public. (at left: The Vladimir Mother of God, 17th century, tempera on panel; courtesy of the Haggerty Museum of Art, Marquette University, Milwaukee, Wisconsin)
John Sinsky's collecting began during the 1960s, when he acquired the first piece in his collection, a 17th-century icon featuring a mother and child image. Russian icons, liturgical objects that play a central part in the life of every Orthodox person, are created to establish a spiritual relationship with the viewer and experience daily use and veneration. All of the icons in the Sinsky Collection exhibit what is referred to as "bright sadness," an ecclesiastical term that refers to a mixed emotion of joy, over the anticipated help from God and salvation, and sorrow, for the suffering of life and sin.
Featuring works dating from the sixteenth through nineteenth centuries, the exhibition serves as a survey that visually documents the stylistic development of Russian icons from the sixteenth through nineteenth centuries. This historical and stylistic trajectory is characterized by the nonrealistic, Byzantine style of the earliest works, in which figures and settings are stylized into flat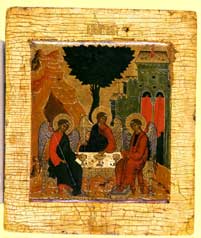 patterns and figures are elongated, as well as the later examples, which exhibit the influence of Western realist painting, where traditional iconography is softened and the icons are often concealed by expertly crafted metal covers. (at right: The Holy Trinity, 17th century,tempera on panel; courtesy of the Haggerty Museum of Art, Marquette University, Milwaukee, Wisconsin)
You're invited to attend an 'Art for Lunch' gallery talk, Thursday, September 9 at 12:30 p.m. in the Peeler Center's University Gallery. Mitchell Merback, associate professor of art, will speak on "Transfigured Visions, or How to Look at Icons Like You Mean It." On Thursday, November 4 at 12:30 p.m., there will be an 'Art for Lunch' gallery talk on "Icons in Russian Culture: Mysticism, Tradition, and the Russian Mind-Set."
For more information, call the gallery information line at (765) 658-4882 or click here.
Back