US Congress Candidate Suzanne Sinclair '74 Preps for Primary
August 25, 2004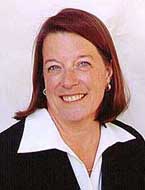 August 25, 2004, Greencastle, Ind. - Suzanne Sinclair, auditor of Island County, Washington, and a 1974 graduate of DePauw University, is one of three Republican candidates in Washington state's second congressional district. The candidates are profiled in today's Seattle Times. The candidates will square off in the state's primary election is September 14 congressional primary, and the winner will face Democrat incumbent Rick Larsen in November.
The story describes Sinclair as "the most-moderate candidate in the race [and] believes people for the most part want 'to be left alone by their government' ... Sinclair is an accountant who left her private firm to work for Island County and then, when the county auditor left partway through a term, she ran in a special election -- at the suggestion of colleagues -- and won the job in 1997. Since then, she's won two races to retain the position, both unopposed, and she said she's hooked on the 'give and take with citizens' that comes with being in politics. 'I'm much better off doing this than pushing a pencil,' she said."
Read the article by clicking here.
Back