"A Wonderful Asset": DePauw University Nature Park Dedicated
September 11, 2004
September 11, 2004, Greencastle, Ind. -

[Download Video: "Welcome from Dr. Bottoms" - 615kb] "This is a day we've been looking forward to for a long time," DePauw University President Robert G. Bottoms said this morning as he officially opened the new DePauw University Nature Park. The 480-acre facility -- which features four trails (covering approximately 10 miles) for walking, jogging, hiking and biking; arboretums; a canoe launch; and outdoor classrooms -- was dedicated today as part of Community Day at DePauw. The event was attended by students, faculty and local citizens, including Greencastle Mayor Nancy Michael, and two representatives from Hanson Aggregates Midwest, which donated the land. "Some of you were here a little over a year ago when we made the announcement of the gift to DePauw, and you can see what we've been able to do in a relatively short time."
Hanson Aggregates mined a limestone quarry on the site, which is located one-third of
a mile from the western edge of the DePauw campus, for nearly a half century (map above shows the new Nature Park in yellow, the existing DePauw campus is in red). The company donated 280 acres of the land, and is leasing the remaining 178 acres to the University for $1 annually for ninety-nine years. DePauw acquired 23 acres of adjacent property to increase the total to 481 acres.
John B. Lawson, president of Hanson's Mideast Region, and James Smith, an environmental engineer for the company, were on hand for the ceremony. President Bottoms thanked the men and Hanson for their generosity and dedication to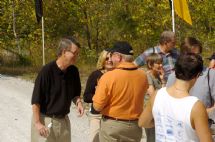 reaching an agreement. Since both men planned on attending the Community Day football game in the afternoon, Bottoms presented them with DePauw caps so they could display their Tiger pride.

[Download Video: "'Capping' off the Agreement" - 474kb]
About $1.5 million dollars in improvements have been made to the site since DePauw announced the Nature Park project one year and one day ago. Dr. Bottoms thanked DePauw Trustees Judson Green '74, Martha Robes '66, and Tim Solso '69 for their generous gifts that funded the improvements.

[Download Audio: "Thank You" - 203kb]"These three individuals together gave us the money to do all of this, and just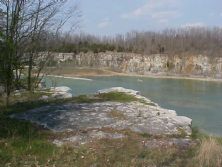 last week we received funding for the first building that we will erect out here and that's the classroom facility. Mr. Solso of Cummins Engine makes that possible."
The President also offered thanks to professor of biology Wade Hazel, who put in long hours to help develop the vision for the Nature Park,

[Download Audio: "Prof. Wade Hazel" - 117kb] "particularly from an educational perspective in representing the faculty, and helping us to develop what we realize will be an outstanding teaching facility."

[Download Video: "A Wonderful Asset" - 951kb]"We hope you'll begin today to enjoy this park," President Bottoms told the first official visitors before they set off on tours. "It's a wonderful asset to the University for teaching and for recreation, and I think it's a wonderful thing for our city and county to have. You'll find out as the development goes on there are very few towns the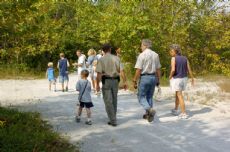 size of Greencastle that will have anything like this to offer to students and to the public."
Effective today, the DePauw University Nature Park is open to the public from dawn to dusk, seven days a week. Camping is permitted only in designated areas and with authorization. For more information, contact Brien Holsapple, park ranger, at (765) 653-5139, or the Public Safety Office at (765) 658-4261. Visit the DePauw Nature Park online by clicking here.
Back