Washington Post Article on Noise Notes Prof. Ted Rueter
September 11, 2004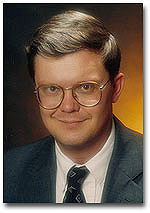 September 11, 2004, Greencastle, Ind. - "Noise Free America has 43 local chapters in 25 states, director Ted Rueter said," notes a story in today's Washington Post. Rueter is an assistant professor of political science at DePauw University. His group, the article states, "is one of several national or international organizations that attempt to reduce noise through education and advocacy."
The Post's Rebecca R. Kahlenberg writes, "It's the time of year when routine neighborhood noise can make you crazy. Fall is on the way and homeowners will be turning down the air conditioning, opening windows and spending time on their porches and decks or in their gardens. But sometimes, the din from a neighbor's property -- be it a barking dog, car alarm, outdoor stereo, renovation crew, power lawn tool or revved up motorcycle -- can ruin time spent outdoors."

The article adds, "Besides joining anti-noise groups, those who long for a quiet neighborhood can call the police, use mediation, or even take a neighbor to court. But experts say many noise issues can be resolved more easily through neighbor-to-neighbor communication." Read the complete text at the newspaper's Web site by clicking here.
Ted Rueter has a master's degree from the University of Chicago and a Ph.D. from the University of Wisconsin, both in political science. He has taught at Middlebury and Smith Colleges, Georgetown University, and at UCLA.
He's authored ten books, including, 449 Stupid Things Democrats Have Said, 449 Stupid Things Republicans Have Said , and The Politics of Race: African-Americans and the Political System. He's also written op-eds for USA Today, the Christian Science Monitor, the Los Angeles Times, and the New York Times, on such subjects as professional wrestling, same-sex public schools, and the ACLU.
Read more about him here.
Source: Washington Post
Back