Television Crews Cover Paul Bremer's DePauw Appearance
September 17, 2004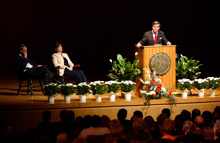 September 17, 2004, Greencastle, Ind. -

[Download Video: "WTHR Coverage" - 1021kb] "More than one thousand people packed a DePauw University auditorium Thursday night for a rare chance to hear from this man, Ambassador Paul Bremer, the envoy who oversaw reconstructive planning and governmental transition in Iraq," began a report by Indianapolis NBC affiliate WTHR that aired in last night's 11 p.m. news. "Outside," reporter Rhori Johnston continued, "students and staff lit candles calling for peace in Iraq."
The story noted Bremer's assertion that Iraq was a "gathering threat" before the war, and that Saddam Hussein had been communicating with terrorists. It included brief interviews with several audience
members:

[Download Video: "More of WTHR's Report" - 786kb].
Indianapolis ABC affiliate WRTV also sent a crew to the Ubben Lecture. Ben Morriston's report featured several clips of Bremer's address, and also showed the silent protest that took place outside of Kresge Auditorium:

[Download Video: "WRTV Clip" - 540kb]
Read an account of Ambassador Bremer's speech -- including audio and video clips as well as photos -- by clicking here.
Back