John W. Alford '35 Commits $1 Million to Fund for Moral Reflection and Development
September 17, 1992
September 17, 1992, Greencastle, Ind. - John W. Alford, a 1935 graduate of DePauw University, has committed $1 million to his alma mater to establish the Alford Fund for Moral Reflection and Development. Alford, chairman of the board of the Park National Bank based in Newark, Ohio, has designated that the income from the endowment be used to augment and develop programs that foster good moral character development for students.
"I believe it is important to emphasize ethics in all fields, beginning with an individual's education," Alford said. "DePauw does an outstanding job of this as demonstrated by the university's selection to the Honor Roll of Character Building Colleges by The John Templeton Foundation. I am confident that moral development will continue to be an integral part of the DePauw experience."
Efforts supported by the Alford Fund will include the following: development of ethical components for courses currently taught at DePauw and new courses that stress traditional moral themes, lectureships that bring religious and business leaders to campus to interact with students, and collaboration among faculty and students to develop programs promoting moral values.
DePauw President Robert G. Bottoms said, "I am very pleased that John Alford has made this generous gift to support one of our major initiatives for the university.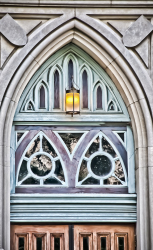 At DePauw we strive not only to provide excellent classroom learning but also to instill in students the moral values and convictions they need in order to be responsible and successful as future leaders in an increasingly complex world."
Alford attended DePauw on a Rector Scholarship, DePauw's most prestigious award, and earned a bachelor's degree in economics. He received certification from Stonier Graduate School of Business at Rutgers University. He and his late wife, Mary, previously established a scholarship fund for DePauw students, and he is a past president of the DePauw alumni board.
Alford is a director of Stocker & Stiler Oil Co. and W.E. Shrider Co., member and past president of the Ohio Bankers Association, former member of the executive council of the American Bankers Association, and chairman of the Thomas J. Evans Foundation. He also is involved in several community organizations.
Back