Two Seniors Taking Their 'Toy Band' to Montreal Music Festival
September 26, 2004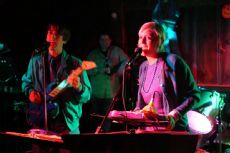 September 26, 2004, Greencastle, Ind. - DePauw University seniors Pete Ohs and Mandy Levy -- known musically as Toy Band -- will perform Thursday, September 30 at Pop Montreal, a 5 day music festival featuring some of today's most noteworthy independent acts. The concert will take place at 9:15 at the Green Room, 5386 St. Laurent Boulevard in Montreal. Toy Band has performed at the Whiskey a Go Go in Los Angeles, as well as a number of venues throughout the midwest. The duo has also released a compact disc, Seriously.
As its name implies, Toy Band plays toy instruments. On their Web site, Ohs and Levy tell of how a 2002 visit to a Goodwill Store in Brazil, Indiana, was serendipitous: they went to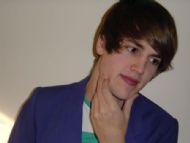 the store to shop for vintage clothes, but wound up buying "a kids' electronic drum set and kids' electronic guitar sitting right next to each other that were just beckoning for us to to skip on over and pick them up, and so we did and we looked at each other, smiled, nodded and skipped on over to the cash register because we knew that this was an omen, the beginning of something special, something magical, something... musical?"
As it turned out, the resale shop instruments didn't work, but the incident sparked an idea that has brought the pair some extracurricular attention.
In its third year,
Pop Montreal is a five-day independent music festival running from September 29 to October 3rd. Supported by Marbelus Arts Foundation, the event presents French and English bands, unknown artists, international superstars and up and coming indie gems. Pop Montreal is a curated festival with special attention to iconic pop performances, taste-making labels, and groundbreaking artists.
Visit Pop Montreal online by clicking here.
Access Toy Band's Web site, which includes MP3 samples of the band's music, by clicking here.
Back