GOP Gubernatorial Candidate Mitch Daniels to Visit DePauw Tuesday
October 1, 2004
October 1, 2004, Greencastle, Ind. - Mitch Daniels, the Republican candidate for Governor of Indiana, will be on the DePauw University campus next Tuesday, October 5, for two appearances. Daniels will speak to Professor Gary Lemon's Management Fellows Colloquium at 10 a.m. in room 278 of the Percy Lavon Julian Science and Mathematics Center. Afterward, at approximately 11 a.m., Daniels will attend a rally sponsored by DePauw's College Republicans in the Hub of the Memorial Student Union Building. Both events are open to all, although seating in the classroom will be limited.
A 1967 graduate of North Central High School in Indianapolis, Daniels was named Indiana's Presidential Scholar -- the state's top male high school graduate that year -- by President Lyndon Johnson. Daniels earned a bachelor's degree from the Woodrow Wilson School of Public and International Affairs at Princeton University in 1971 and a law degree from Georgetown University in 1979.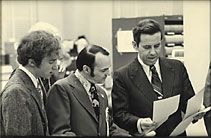 Mitch Daniels began his public service career working in various capacities for Richard Lugar during his tenure as Mayor of Indianapolis. Daniels followed Lugar to the United States Senate, serving as chief-of-staff during Lugar's first eight years in Washington.
In the mid-1980s, Daniels served on President Ronald Reagan's staff as a senior advisor and the administration's liaison to the nation's state and local officials. By appointment of President Reagan, Daniels served as a member of the Advisory Commission on Intergovernmental Relations and, later, as a director of the Overseas Private Investment Corporation.
In 1987, Mr. Daniels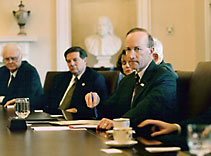 returned to Indiana as chief executive of Hudson Institute, the nationally-known research organization. In 1990, he joined the upper management of Eli Lilly serving as president of Lilly's North American pharmaceutical operations, and later, senior vice president of corporate strategy and policy.
In January 2001, President George W. Bush appointed Daniels to serve as director of the Office of Management and Budget (OMB), making him the first Hoosier Cabinet member since Otis Bowen served in the Reagan Administration. As budget director, Daniels was the only cabinet member who also served on the senior White House team. In addition, he was a member of the National Security Council and the Homeland Security Council.
In 2002, Americans for Tax Reform presented Mitch a "Hero of the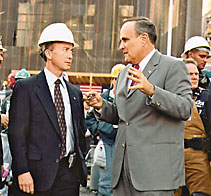 Taxpayer" award "for his relentless efforts to control the federal budget." Upon his departure from Washington, Citizens Against Government Waste (CAGW) applauded Mitch for bringing "a fresh new approach to the position of OMB Director." Daniels served as the nation's budget director until June 2003, when he resigned to return to Indiana.
Mitch Daniels has served as a trustee or director of Goodwill Industries of Central Indiana, Freedom House, the Fund for American Studies, the Lynde and Harry Bradley Foundation, and many other institutions. His sister Deborah -- assistant U.S. attorney general for the Office of Justice Programs and the national Amber Alert coordinator -- is a 1973 graduate of DePauw (read more here).
Learn more about Mitch Daniels at his Web site by clicking here.
Back