Srinivas Krishnan Ensemble Brings Indian Music to DePauw Tuesday
October 1, 2004
October 1, 2004, Greencastle, Ind. - Srinivas Krishnan and his group of internationally acclaimed musicians will be bringing the sounds of India to DePauw University on Tuesday, October 5 at 8 p.m. This concert will be a wonderful opportunity to sample and enjoy these unique and refreshing sounds. The event, which takes place in Kresge Auditorium of the Performing Arts Center, is free and open to the public. It is co-sponsored by the DePauw University School of Music and Asian Studies Department.
Krishnan and his ensemble bring an intriguing global perspective to this event. Much of this relates to the percussionist's distinctive and broad musical interests. An accomplished master percussionist from India, Krishnan is skilled at Indian instruments such as the tabla, ghatam, and mridangam as well as the Middle Eastern dumbek and Irish bodhran. He has continued these diverse sonic explorations throughout his career, most notably with the Global Rhythms Ensemble, which he founded at Miami University of Ohio.
These experiences have led him to important associations with Indian masters such as Ravi Shankar, Umayalpuram Sivaraman, and Dr. L. Subramaniam as well as Grammy winning recording artists like Horacio Hernandez, Victor Mendoza, Peter Gabriel, and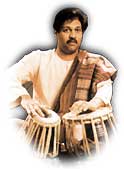 Glen Velez. Presently, Krishnan is the Artist in Residence at the Center for American and World Cultures and is working closely with A.R. Rahman, the Music Director for Andrew Lloyd Webber's musical Bombay Dreams and the upcoming musical Lords of the Rings.
Not surprisingly, Krishnan's DePauw concert will showcase an intriguing program rooted but not limited to the Indian musical tradition. Joining him in this performance will be Anupama Bhagwat (sitar), Karthick Subramaniam (ghatam) and Patrick Hernly (steel pan). This unique instrumentation is sure to fascinate and amaze concertgoers, regardless of their familiarity with Indian music.
"The Srinivas Krishnan Ensemble is a perfect introduction to Indian music," according to Cleveland Johnson, professor of music. An Indian music enthusiast, Dr. Johnson maintains, "Because of its improvisatory tradition, like American jazz, this music has immense audience appeal. Explaining each unusual instrument and performing technique from the stage, this group will both inform and delight."
Back