Unique "Creative Machines" of Artist Sabrina Raaf on Display at Peeler Center October 27- November 28
October 14, 2004
Also: "Contemporary Art and Latin America" through 12/12
Also: "Bright Sadness: Russian Icons from the Sinsky Collection" through 12/5
October 14, 2004, Greencastle, Ind. - A solo exhibition of Sabrina Raaf's electronic artwork and digital images opens at the Richard E. Peeler Art Center at DePauw University on October 27. Sabrina Raaf is a Chicago-based artist who works in experimental sculpture media and digital imaging. The exhibition, part of ArtsFest 2004 (read more here), may be visited through November 28, 2004, and is free and open to the public. The artist will be on campus for an opening reception and gallery talk at the Peeler Center, Thursday, October 28, from 4 to 6 p.m. (at left: Suburban Particle.1; 2003, medium: archival inkjet print )  
Sabrina Reef is a producer of creative machines -- machines that independently make art when cross-pollinated with human interaction. These machines are based on complex computer systems architecture. She makes use of network, reflexivity, and the interplay of randomness and pattern to initiate a genuine engagement of the machines with the human visitors around them. As Raaf

states: "I'm not interested in creating an object that people will notice for a few seconds; I want to take over their worlds!"
This exhibition consists of approximately thirteen works including Raaf's "creative machines" and digital photographs of futuristically probable interiors where the inhabitants enjoy "an increased personal connection with the rooms they inhabit." Raaf's curious photographic scenes depict such things as an apparatus that processes harvested human fat into soap, as well as insects that digest human hair pigment, transforming it into ink. These intriguing sci-fi views are part of the world that Sabrina Raaf projects to make us investigate the present for those future possibilities. (at right: Over and Again; 2004, medium: archival digital print )
A small robotic piece entitled "Grower" monitors the carbon dioxide levels in the gallery and translates this information by drawing a corresponding vertical, green line on the wall before moving forward a quarter inch to draw another. Over time, this "drawing" begins to resemble a cross-section of lawn. Raaf states, "This piece makes visible how art institutions depend on their visitors to make them 'healthy' spaces for new art to evolve and flourish within." Each growing green line makes the visitors sensitive to their own presence, breath, and affect on their environment.
Sabrina Raaf has exhibited at Gallery Speos (Paris), the Machinista Festival (Glasgow), the Mary and Leigh Block Museum of Art (Evanston, IL), the Corcoran Gallery of Art (Washington, DC), and the Chicago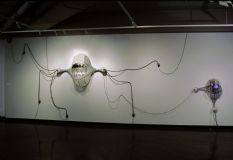 Cultural Center. She is the recipient of a 2002, Creative Capital Grant in Emerging Fields and an Illinois Arts Council Fellowship (2001). She is currently a tenure-track professor in the photography department of Columbia College in Chicago teaching multimedia applications and theory. (at left: (Breath IV) The Unstoppable Hum; 2000, medium: steel, rubber, aluminum, glass and custom electronics)
The galleries at the Richard E. Peeler Art Center are open Monday through Friday from 9 a.m. to 4 p.m.; Saturday 10 a.m.- 4 p.m.; and Sunday 1-5 p.m. For more information, call the gallery information line at (765) 658-4882 or visit our Web site by clicking here. 
Back