Washington Post Examines Recent Comments by Ambassador L. Paul Bremer, Including Those Made at DePauw
October 5, 2004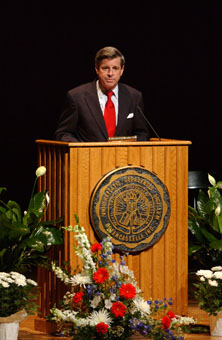 October 5, 2004, Greencastle, Ind. - "In a September [16] speech at DePauw University," L. Paul Bremer III, former presidential envoy to Iraq, "said he frequently raised the issue within the administration and 'should have been even more insistent' when his advice was spurned because the situation in Iraq might be different today," write Robin Wright and Thomas E. Ricks in today's Washington Post. The article continues, "'The single most important change -- the one thing that would have improved the situation -- would have been having more troops in Iraq at the beginning and throughout' the occupation, Bremer said, according to the Banner-Graphic in Greencastle, Indiana." The story on Bremer's Timothy and Sharon Ubben Lecture that was published in the Banner-Graphic originated on this Web site and was authored by Ken Owen '82, director of media relations (read it here).
The Post article was prompted by a speech Ambassador Bremer made yesterday at an annual meeting sponsored by the Council of Insurance Agents and Brokers. In that address, as at his Ubben Lecture at DePauw, Bremer said that more troops were needed in Iraq. The Post notes, "Bremer's comments were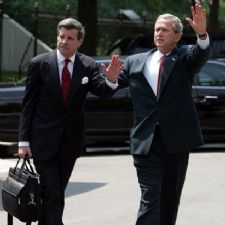 striking because they echoed contentions of many administration critics, including Democratic presidential nominee John F. Kerry, who argue that the US government failed to plan adequately to maintain security in Iraq after the invasion. Bremer has generally defended the US approach in Iraq but in recent weeks has begun to criticize the administration for tactical and policy shortfalls."
Today's report also notes, "A Bremer aide said that his speeches were intended for private audiences and were supposed to have been off the record." Owen asserts, "The contract we have with the speakers bureau representing Ambassador Bremer had no limitations, whatsoever, on coverage by print media outlets -- neither in his speech, nor in the student question-and-answer session with students. There were stated limitations on recording by the electronic media. But I can state unequivocally that absolutely nothing was to be off the record."
The Post article concludes, "In a statement late last night, Bremer stressed that he fully supports the administration's plan for training Iraqi security forces as well as its overall strategy for Iraq. I believe that we currently have sufficient troop levels in Iraq,' he said in an e-mailed statement. He said all references in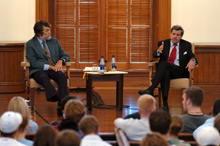 recent speeches to troop levels related to the situation when he arrived in Baghdad in May 2003 -- 'and when I believed we needed either more coalition troops or Iraqi security forces to address the looting.' He said that, to address the problem, the occupation government developed a plan that is still in place under the new interim Iraqi government. Bremer also said he believes winning the war in Iraq is an 'integral part of fighting this war on terror.' He added that he 'strongly supports' President Bush's reelection."
Read the complete article at the Post's Web site by clicking here (a free registration is required). The same text is also accessible via MSNBC's site here.
Source: Washington Post
Back