Landscape Architecture Details the Creation of DePauw's Butler Family Sculptural Garden
November 16, 2004
November 16, 2004, Greencastle, Ind. - "DePauw's recently completed Peeler Art Center, built by Houston-based Carlos Jiménez, had a rectangular lot at the side that was bounded by a parking lot, a street, and the building itself on two sides," writes Nancy Bowen in the November 2004 issue of
Landscape Architecture
. "I was asked to create an environment there that complemented the building but also stood as a unique sculptural statement. Students were to participate in the building process as part of a hands-on sculpture curriculum." The resulting Butler Family Sculpture Garden is the subject of the two-and-a-half page article, which includes several photos.
"I took an East-meets-West approach to t
he design of the area, writes Bowen, who was the Lee G. Hall Distinguished Visiting Professor of Art at DePauw in the Fall of 2003 and is an assistant professor of sculpture at Purchase College, the State University of New York. "The overall forms are simple, elegant, and modernist and made in subtle shades of gray and white cast concrete. Organic in shape, the main sculptures are based on Eastern architectural elements and contrast nicely with the bold geometry of the Peeler Art Center," she writes in the magazine.
"A pathway bisects the site in a bold diagonal swath, separating it into two areas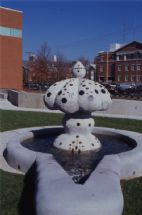 unified by inlaid black beach stones and handmade tiles that reflect colors in the building's materials," Bowen continues. "On one side of the path, a sculptural fountain with seating around it creates a place for quiet contemplation.  On the other side, a circular concrete seating area sunk into a hillside can be used for small classes or intimate gatherings."
In the story, titled "Campus Craft: Leftover space on a university campus is made into a destination," Professor Bowen describes how, with the help of DePauw students and faculty members, coordinator of grounds Jim Katterjohn and Kirt Moody of CSO Architects, the Butler Family Sculpture Garden became reality.
Visit Landscape Architecture online by clicking here. Read more about Nancy Bowen's work at DePauw here.
Back