Why Not Tom Brokaw for President?, Prof. Ken Bode Asks
November 19, 2004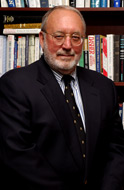 November 19, 2004, Greencastle, Ind. - In his weekly op-ed column, Ken Bode notes that NBC's Tom Brokaw "has covered every campaign, election and presidency since 1968. He has reported as presidents grappled with international crises, scandals and impeachments. And he has told the story straight, never compromising his objectivity. Today, Tom Brokaw is probably the most believable person in American journalism. So, two years ago, when Brokaw announced he was taking early retirement, some of his friends got a brainstorm: How about running for president in 2004?"
Writing in the Indianapolis Star, Dr. Bode, Eugene S. Pulliam Distinguished Visiting Professor of Journalism at DePauw University, continues, "Why Brokaw? Because he has been a firsthand witness to world history for the past 40 years. He is good on his feet, speaks well and has reported on every issue on the national agenda. His roots and values are genuine Midwestern.
He has moderate views and a strong family, and his success is self-made. He's handsome and emanates authority."
A former NBC colleague of Brokaw's, Bode also attended the University of South Dakota at the same time Brokaw was a student there. The DePauw professor says he and other friends "even looked into running Brokaw as a write-in in New Hampshire. But he said, 'No thanks. Politics is a noble calling but not for me.' So Brokaw surrenders the anchor chair at NBC to make documentaries, climb mountains and do some fly-fishing. He will have time to think. So think it over again, Tom. In 2008, you will still be much younger than Ronald Reagan when he was elected."
Access the complete column at College News.org. Ken Bode's other recent op-eds can be accessed here, here, here, here, here, here, here, here, here, here, and here.
Back