DePauw Band's Fifth CD, Toccata Festiva, to Receive Worldwide Distribution
November 30, 2004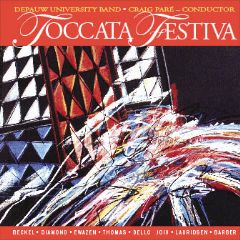 November 30, 2004, Greencastle, Ind. - The fifth compact disc by the DePauw University Band, Toccata Festiva, will be released next week on the prestigious Mark Masters label. The record company's owner and president, Mark J. Morette, notified Craig Paré, associate professor of music and director of university bands at the DePauw University School of Music, of the honor.
"I have thoroughly listened and scrutinized your performance, numerous times over," Morette stated. "I am thoroughly impressed. So much so, that I would like to offer you a position on our premier record label, Mark Masters."
Morette notes, "This label is our designation of superior quality and has my personal seal of approval: a holographic, gold foil logo designation that is proudly displayed on the front cover of the CD booklet. The Mark Masters series includes releases that have been honored with eligibility for over 65 Grammy Nominations during the past 7 years.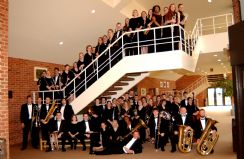 This is more than any other classical label in the world. You are included with such renowned professional ensembles as the Bohuslav Martinu Philharmonic Orchestra from the Czech Republic, Tokyo Kosei Wind Ensemble, The U.S. Air Force Band, U.S. Marine Band, Fred Mills (The original Canadian Brass lead trumpet player for 25 years), American Chamber Winds, The Wisconsin Wind Orchestra and the leaders in our wind band industry, notably University ensembles such as the University of North Texas, Rutgers Wind Ensemble, University of Texas and Texas A&M University."
The disc, which spotlights the DePauw University Band, includes a number of other contributions from the DePauw community:
Two DePauw School of Music faculty members are featured on the recording: Carla Edwards, professor of music, performs on the new J. Stanford Smith Concert Organ; and James Beckel, adjunct professor of music, offers his composing and arranging skills to the disc.
The disc's artwork was designed by Dian Phillips, director of publications
The cover art, "Ancestral Spirit Dance # 293", is by renowned artist Willis "Bing" Davis, a 1959 graduate of DePauw.
The Mark Masters label, based in New York, will distribute the DePauw University Band's disc worldwide, and promote its release to music journalists. "Craig, I am proud to offer you this designation," Morette's note concludes. "Your hard work and the growth of your ensemble has been tremendous. Congratulations on a CD extremely well done!"
Toccata Festiva was recorded April 30- May 2, 2004, at DePauw's Kresge Auditorium. To learn more about the Band's CD recording projects, click here.
Back