Overturning Roe v. Wade Would Be "Devastating" to Republican Party, Political Analyst Charlie Cook Says as He Reviews Campaign 2004 and Looks Ahead
November 30, 2004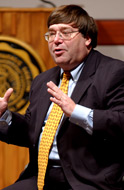 November 30, 2004, Greencastle, Ind. - George Bush's victory over John Kerry was a "good, solid, clean win," according to political analyst Charlie Cook.

[Download Audio: "Clean But Not Realigning" - 196kb] "But was this a realigning, transformational election? No," he told an audience at DePauw University this afternoon. "When you have realigning elections, when you have these big, big, larger than life elections, what you see is big gains on every level. And that just simply didn't happen." Cook, who been called "the Picasso of election analysis" by the Wall Street Journal, was a guest of the Gertrude and G.D. Crain Jr. Lecture Series.
Cook is editor and publisher of the Cook Political Report, political analyst for the National Journal magazine and CongressDailyAM, and a frequent guest on NBC's Meet the Press. He says Bush's 51-48% victory was "hardly a landslide," especially when you break down the vote and the state that decided the race.

[Download Audio: "What Really Mattered" - 312kb] "In terms of what really matters, this election came down to 136-thousand votes in Ohio out of 5.4 million cast in Ohio... Now that's not 537 votes in Florida, but it's pretty darn close, or you could say it's 136-thousand out of 120 million cast nationwide. That's the true measure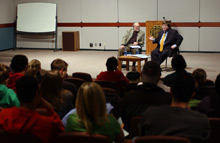 of what this presidential election came down to," Cook told the students and faculty in Watson Forum of the Eugene S. Pulliam Center for Contemporary Media.
Further suggesting the 3% difference in the popular vote was somewhat moot, says Cook: voter turnout in the "toss-up" states was up 17.3% this year; it increased 14.9% in the "red," or traditional Republican, states; yet was only up 1.9% in the "blue" states that favor Democrats. The analyst says he doesn't "know of anybody who voted for John Kerry, but I know a whole lot of people who voted against George Bush." In the end, says Cook, Kerry did not energize his base.
The "gender gap" closed in this presidential election, and Cook says Kerry failed to reach out to women voters. Al Gore carried the female vote by 11 percentage points four years ago, yet Kerry's margin was only 3%.

[Download Audio: "Women & Kerry" - 680kb] "And I think a lot of it was the issues that polls told us that women most wanted to hear about -- economy, jobs, health care, prescription drugs --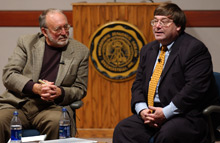 were the issues that Kerry needed to be talking about. And at every possible opportunity, Kerry would get distracted. You know, all the way 'til the last couple of days of the campaign when you had that cache of Iraqi arms that were discovered that had been looted, it was like a rabbit. And Kerry just chased that rabbit on down the trail as opposed to sticking on the issues that he really should have been more focused on. And day that the focus of the news, the spotlight, was on the economy, jobs, health care, prescription drugs, was a really bad day for President Bush. If the focus was on almost anything else it was a better or maybe even a good day."
Cook says there's a lesson to be learned from exit polls that showed 22% of voters considered "values" when they pulled the lever, and that 81% of that group voted for Bush.

[Download Audio: "Demographic Shifts" - 353kb] "What we're seeing is social and cultural issues are replacing income as a driver; that you're seeing small town, rural America... voting more and more Republican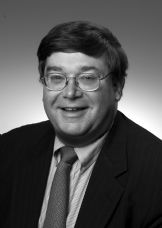 because of abortion and guns and some of these other social and cultural issues, while at the same time you're seeing upscale whites, particularly suburban voters, particularly women, moving away from the Republican Party and more towards the Democratic Party on those very same issues." Cook believes Kerry's showing among women to be an anomaly and a sign of a campaign that misfired.
Even with Republican gains in the Senate and House of Representatives, the pundit believes it will be very difficult for President Bush to push his agenda through Congress and please his base.

[Download Audio: "Dangerous Thinking" - 82kb] "I think the most dangerous thing in the world for a party is to think that you got a bigger mandate than you did." Cook points out that 60 votes are needed to break a filibuster in the Senate.

[Download Audio: "Getting the Votes" - 197kb] "You know, there's not anywhere near 55 or 60 conservative votes in the Senate, and so I think the expectations of being able to get through Social Security reform, fundamental tax reform, a lot of these things -- I think the expectations are way out of whack with the reality of what they will be able to do."
President Bush's hour of opportunity may be short. Cook points out,

[Download Audio: "Mid-Term Elections" - 123kb] "Second term mid-term elections tend to be devastating for the party holding the White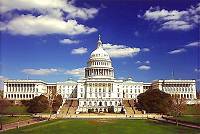 House. Four out of the last five, they've gotten hammered since the end of World War II."
Cook says the GOP should be careful what it wishes for.

[Download Audio: "Roe v. Wade" - 360kb] "If I were the chairman of the Democratic National Committee, and if I had one wish, and if I were just an absolutely mercenary [and] didn't care about anything except winning, I would pray that Roe v. Wade was overturned, 'cause I think that would be probably the single most devastating thing to the Republican party for 10-20 years to come."
Looking ahead to the 2008 campaign, Cook sees more than a dozen potential candidates on both sides of the aisle, and says it's way too early to start picking through the pack. However,

[Download Audio: "Campaign 2008" - 234kb] "The distinction of this campaign is that it will be the first presidential election since 1928 -- the first one in 80 years -- with no sitting president or sitting vice president running. And there's no heir apparent on either side. So it's going to be wide open and fun to watch."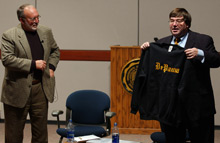 Visit the Cook Political Report, a non-partisan, online analysis of electoral politics, here.
Endowed by Rance Crain, president of Crain Communications and a member of DePauw's Class of 1960, the lecture series, which honors Mr. Crain's parents, was created last spring to enrich the DePauw environment in the area of public affairs and public issues. Previous Crain Lecturers have included FactCheck.org director Brooks Jackson (read more here); veteran political columnist Jack Germond (read more here); military sociologist Charles Moskos (read more here); historian Douglas Brinkley, author of Tour of Duty: John Kerry and the Vietnam War (read more here); David A. Keene, chairman of the American Conservative Union (read more here); and Joe Trippi, who managed Howard Dean's presidential campaign (read more here).
Back