Junior Prepares for White House Internship
December 27, 2004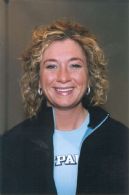 December 27, 2004, Greencastle, Ind. - "Jessica Beeson hasn't watched The West Wing on television, even though she's a student of politics," begins a story in Indiana's Kokomo Tribune on the DePauw University junior. "Starting January 4, the Western High School graduate won't need to. She'll get an inside view of the real White House as an intern for presidential adviser Karl Rove."
Job number one for Beeson will be assisting in the planning of the presidential inauguration. "That will be the face of George Bush for the next four years," she tells the newspaper. "That's where we really get it started."
The Tribune's Danielle Rush writes, "Beeson, 21, said her job will include answering phones for Rove, giving tours, writing correspondence and other jobs... Beeson hopes to meet President Bush while she's there. 'They told me to dress prepared to go into the Oval Office any day. I'll be right there. I can't wait. I've really been hoping to someday meet him. He's probably my biggest role model as a leader'."
The article adds, "She also hopes the job gives her a taste of real politics so she can decide if she wants a career in politics. After Beeson graduates from DePauw University in 2006, she might go to law school. She's also considering being a fundraiser or a political strategist."
Find the complete text at the newspaper's Web site by clicking here.
Jessica Beeson spent the summer interning with the College Republican National Committee. Read more here.
Back