Sophomore Contributes Article to Association for Feminist Anthropology Newsletter
January 18, 2005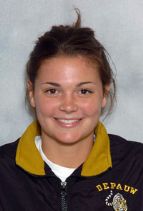 January 18, 2005, Greencastle, Ind. - "Publicly, women's position in society has improved. Some would go so far as to say we have achieved true equality," writes DePauw sophomore Katherine Backes in this month's newsletter of the Association of Feminist Anthropologists. "So is this what true equality looks like -- dancing provocatively while men cheer?"
Backes writes of a visit to a club where women were called to the stage by a disc jockey and encouraged to "shake it for the men," which they proceeded to do. "Is it taboo perhaps to even imagine men dancing on a stage with each other, at least in this same kind of setting? Yet it is considered normal, every night when partying, when we do it. Not problematic at all, just objects to admire."
The student continues, "When the women left the stage, they did not change. They remained sexual objects in the eyes of men. They were now defined by their physical appearance alone, the personal character and inner complexities ignored." Backes concludes, "Women cannot gain the respect of our male peers in the classroom and workplace, if at night we are only sexual objects. After centuries of struggle, we have made our way into voting booths, colleges and the workplace, only to realize that access does not assure equality. We fight for equality in the public sphere -- for equal pay and opportunity -- but we will continue to fall short until we have equality in the private sphere -- when dancing, as well."
In an introduction to Backes' article, Rebecca Upton, assistant professor of sociology and anthropology writes, "Katherine Backes, a sophomore at DePauw University, was enrolled in a course that challenged her ideas about cultural relativism... The incident she
describes may appear common: something we feel we cannot change or something that really provides a means of empowerment. But the scene she describes was a real moment where her questions about feminism and anthropology evoked a strong response. No matter how we feel about our bodies, our gender, our sexuality and objectification of those things, it strikes me as worth reminding ourselves of how we become feminists -- at what moment? As Katherine suggests, perhaps we need to take a step back and think about it."
Visit the Association for Feminist Anthropology's Web site by clicking here.
DePauw junior Christopher Reams contributed to the Association's November newsletter. Read more in this story.
Back