DePauw Connections Strong in Indiana State Museum Art Exhibition
February 16, 2005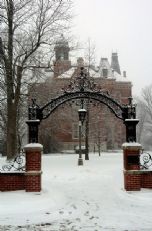 February 16, 2005, Greencastle, Ind. - The works of three artists with ties to DePauw University are included in a new exhibition at the Indiana State Museum. "Whispers to Shouts; Indiana Women Who Create Art," will be on display through July 10. Among the artists contributing to the exhibition are two alumnae -- Mary Beth Johnson Edelson '55 and Jane Everhart '76 -- as well as Cynthia O'Dell, associate professor of art; and Martha Donovan Opdahl, who was DePauw's art gallery director and university curator from 1987-1998.
"'Whispers to Shouts: Indiana Women Who Create Art' is the first major exhibition of traditional and contemporary art from Hoosier women artists," notes the museum's Web site. It notes that the exhibition "presents an overview of the impressive, yet often ignored, women's contributions to our regional art heritage. Rarely seen by the public, the historical works by Indiana women artists include more than 80 of the strongest oil paintings, works on paper, sculptures and ceramics borrowed from public institutions and private collectors. In dramatic contrast to the historical art,
more than 50 contemporary pieces are borrowed from private collectors and the artists themselves. The works include sculptures, traditional paintings, photographs, textiles, mixed media, blown glass and installations."
Read more by clicking here. The Indiana State Museum is located in White River State Park in downtown Indianapolis. For more information, call (317) 232-1637.
Back