Augusta Read Thomas is Composer-in-Residence for DePauw's Annual 'Music of the 21st Century' Series
February 24, 2005
Also: "Music of the 21st Century" Schedule and Information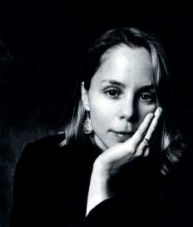 February 24, 2005, Greencastle, Ind. - Chicago Symphony Center's composer-in-residence, Augusta Read Thomas, will be the featured composer for this year's edition of DePauw University's 2005 "Music of the 21st Century." The annual contemporary music series will begin on Thursday, March 3, in DePauw's Performing Arts Center and continues through Sunday, March 6. It will feature two concerts, several coachings with various DePauw ensembles as well as a convocation and master class presented by Ms. Thomas. All of the events are free and open to the public.
The 2005 edition of "Music of the 21st Century" is supported by a gift from Robert and Margaret Schmidt, both members of the DePauw Class of 1969.
"Augusta Read Thomas is one of the most commissioned and most successful young composers of our time," remarks Amy Lynn Barber, dean of DePauw's School of Music. "In addition to her prestigious position with the Chicago Symphony Orchestra and her premieres there, she has had recent premieres by the New York Philharmonic, Philadelphia Orchestra, National Symphony Orc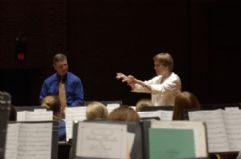 hestra, and other world famous musical ensembles. All this, and she is only 40, which is very young for a composer."
This visit to Greencastle builds upon Thomas' work with the DePauw University Band last spring. Assisting the students in their interpretation of Magneticfireflies, the results of this collaboration are evident on the band's highly praised fifth recording release, Toccata Festiva (
[Download Audio: "Magneticfireflies" - 261kb]) Audience members will be able to listen to a live rendition of the work during Sunday's closing concert, which begins at 3 p.m. in Kresge Auditorium.
2004 was a banner year for Thomas, displaying both her growing reputation and remarkable musical productivity. In March, the Chicago Symphony Orchestra gave the world-premiere of Tangle with guest conductor David Robertson. September saw two more premieres; the first of these being her song-cycle Gathering Paradise, performed by the New York Philharmonic and soprano Heidi Grant Murphy under the direction of Lorin Maazel. The second was Thomas' Purple Syllables, performed in San Francisco
by the celebrated vocal group Chanticleer. In November, Ms. Thomas' Dancing Galaxies was premiered by the New England Conservatory Wind Ensemble. Along with these performances, Ms. Thomas released her second self-produced recording, which includes Words of the Sea, performed by the Chicago Symphony Orchestra under the direction of Pierre Boulez, and In My Sky at Twilight, a song cycle performed by the MusicNOW chamber ensemble and soprano Christine Brandes.
Over the course of her career, Augusta Read Thomas has received a myriad of awards and critical acclaim for her works from such organizations as the National Endowment for the Arts, the American Academy and Institute of Arts and Letters and the John Simon Guggenheim Memorial Foundation. Conductors including Daniel Barenboim, Mstislav Rostropovich, Pierre Boulez, and Seiji Ozawa have programmed her works. Thomas' orchestral works have been performed by such notable organizations as the Berlin Philharmonic, the New York Philharmonic, the Philadelphia Orchestra and the Chicago Symphony Orchestra.

Presently, Thomas is in high demand as a composer, professor and arts administrator. Her current commitments are distinguished and varied, as she is a professor on the composition faculty at Northwestern University, on the Board of Directors of the American Music Center as well as the composer-in-residence for Chicago's Symphony Center. Her work is currently published by G. Schirmer Inc.
For more information on "Music of the 21st Century" events, click here. Learn more about the DePauw School of Music, here.
Back