David Hollander '87 is Finalist for Golden Apple Award
February 23, 2005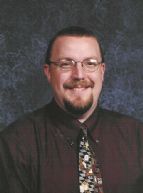 February 23, 2005, Greencastle, Ind. - David Hollander -- a teacher at Kennedy Junior High School in Lisle, Illinois and 1987 graduate of DePauw University -- is one of 32 finalists for the Golden Apple Award for Excellence in Teaching. The award is given annually to ten teachers in the Chicago metropolitan area by the Golden Apple Foundation. The ten winners will be announced next month.
The Golden Apple Foundation is a not-for-profit organization that believes that every child deserves excellent teachers.
"By helping to recognize, prepare and support such leaders, it is our belief that there is no limit to their students' potential," says Elaine M. Schuster, Ph.D., president and CEO of the Foundation. "In recognizing the profound impact of teachers like Mr. Hollander, we realize that it is also appropriate to honor the institutions that played a role in their
development... As an institution that seeks to inspire the best in its students, DePauw University should be proud of this graduate who represents your school so well."
Read the announcement of the 32 finalists by clicking here.
Back