Prof. Carlos Carrillo Invited to John Duffy Composers Institute in Virginia
April 12, 2005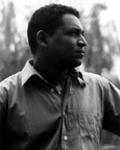 April 12, 2005, Greencastle, Ind. - Carlos Carrillo, a Mellon post-doctoral fellow and part-time assistant professor in the DePauw University School of Music, will participate in the inaugural John Duffy Composers Institute, April 25 - May 9. Part of the 9th Annual Virginia Arts Festival, the Composers Institute is committed to the creation and performance of new music. Dr. Carrillo's composition, Algunas metáforas que aluden al tormento, a la angustia y a la Guerra, received its world premiere January 22 at New York City's Carnegie Hall, and was deemed "fetching" and "alive" by the New York Times.

Carrillo and up to nine other Composer Fellows were selected by recommendation from top artists and educators. Each will have the opportunity to spend two weeks in residence studying under master composers (including Mark Adamo, John Corigliano, Tania León and Billy Taylor), writing new works, and having their works read by various Virginia Arts Festival composers. The Institute will be directed by John Duffy, two-time Emmy Award winner and founder and past president of Meet the Composer.
Visit the Institute's Web site by clicking here.
Back