State Supreme Court Rejects "Baseless" Lawsuit Against DePauw
April 5, 2005
April 5, 2005, Greencastle, Ind. - In a unanimous ruling, the Indiana State Supreme Court has rejected a request by DePauw University employee Janis Price to have her case heard by the state's highest court.
"Repeatedly, courts have ruled unequivocally in DePauw University's favor and that Mrs. Price's lawsuit leveled charges that were baseless," says Ken Owen '82, director of media relations for the University. "Indiana's highest court has effectively put her meritless claims to rest for good, which we applaud. Much time and energy were expended defending DePauw's reputation from these frivolous claims, and we're pleased that DePauw has been exonerated in all matters and that we can focus on educating tomorrow's leaders, which this institution has been doing for almost 200 years."
Mrs. Price, who continues to work for DePauw University, filed a lawsuit in 2002 claiming the university unjustly removed her from her part-time teaching position the previous summer. Her case was originally heard in Clay Circuit Court in November 2003, where a jury determined that DePauw did not follow proper procedure in the handling of Price's job change and awarded her $10,401.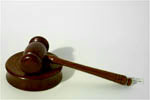 However, in December 2004, the Indiana Court of Appeals determined that the trial judge should have awarded summary judgment for DePauw and that there should not even have been a trial. The ruling against DePauw and the damages assessed in the trial were both reversed.
Mrs. Price and her attorney, John Price (no relation), asked the State Supreme Court to review the Court of Appeals' ruling. Yesterday, the state's highest court unanimously rejected the Prices' call for a review.
"From the very inception of the case, DePauw believed Mrs. Price's many claims were unfounded and the Courts have repeatedly agreed," said DePauw's counsel, John Neighbours.
Price was a part-time instructor at DePauw until July 2001, when her
responsibility for teaching one class was not extended by the university. She remains an administrator in DePauw's education department.
Initially, Price sued the university claiming DePauw had cut her teaching duties because of her religious views. She maintains she was reassigned and incurred a $10,000 pay cut because she had distributed magazines in her classroom -- which a student complained were anti-homosexual and, therefore, a violation of the University's policy prohibiting harassment by anyone associated with the institution. DePauw argued that its decision to change Price's duties was the result of both declining enrollments in the teacher education program and regular and special reviews of her performance.
After the lawsuit was filed, Judge Richard L. Young of the U.S. District Court for the Southern District of Indiana dismissed Mrs. Price's religious harassment claims. Later, in March 2003, Putnam Circuit Court Judge Diana LaViolette dismissed Price's claims that DePauw violated her freedom of speech, freedom of religion and academic freedom.
The Clay County jury was asked only to decide whether DePauw violated its faculty handbook in the way it handled Price's
reappointment, and ruled in her favor. The December Court of Appeals ruling, now supported by the Indiana Supreme Court, reverses that ruling and affirms DePauw's argument that it followed proper procedure in the handling of the matter.
"This seems a good time to say again -- emphatically -- that DePauw, which was founded by the United Methodist Church, is and has been open to and tolerant of people of all backgrounds and faiths," Owen stated. "The rich traditions of this institution cannot be changed by the mischaracterizations of one person. As the DePauw family, we're proud of who we are and thrilled this matter is finally behind us."
Read more in a United Methodist News Service story by clicking here.
Back