Senior: "I Had a Blast" at NCAA Leadership Conference
June 14, 2005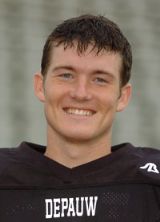 June 14, 2005, Greencastle, Ind. - "It was an honor just to be selected. But when DePauw senior Brian Culp arrived at the NCAA Leadership Conference at Disney World in Orlando, Fla., three weeks ago, he found out it was more than just an honor," Indiana's Seymour Tribune reports. "I had a blast," Culp tells the newspaper. "It was one of the best experiences of my life."
Dan Burch writes, "The NCAA Leadership Conference is an annual gathering of student-athletes at the Disney resort. This year, 325 athletes were selected from all divisions. They gathered from May 29-June 2 to discuss leadership skills, problem-solving techniques and decision-making strategies. In order to be selected, an athlete had to be nominated by his coach, then chosen by their college or university as one of four possible candidates. The NCAA required the candidates to write a letter discussing a time in their life when they showed good leadership. From those letters, the NCAA then selected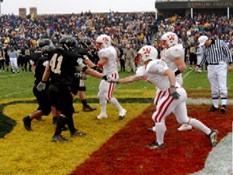 the participants. Culp was nominated by former DePauw football coach Bill Lynch, now an assistant at Indiana University. He wrote an essay on his leadership and participation in Relay For Life and became the only DePauw athlete chosen to represent the university this year."
The article notes that "Culp's roommate for the conference was Michigan State football and basketball player Paul Davis. 'He wanted to hear about my stories in Division III and about the Monon Bell game,' Culp said, referring to the annual football clash between DePauw and Wabash College in Crawfordsville. 'I thought going down there that there might be a separation of divisions, but there really wasn't.'
Burch notes, "Each participant had to formulate a plan of action to take back to their respective university. Culp said he plans to focus on fan support at DePauw. He wants to organize Black & Gold days where athletes from other sports show up at sporting events to support the team playing...

Culp, who is a wide receiver for the Tigers, is a studio art major and hopes to parlay his degree into a graphic design or video editing job. 'Something with computers and art,' he said."
Access the complete story at the newspaper's Web site.
Visit the DePauw football team online by clicking here.
Back