Organist and Teacher Carolyn Hardin Heagey '51 Spotlighted in Tampa Tribune
June 16, 2005

June 16, 2005, Greencastle, Ind. - "Excellence in all its forms -- whether from another culture, a craftsman or an attentive student -- fascinates Hardin Heagey, a South Tampa pianist and organist for more than 40 years," states the Tampa Tribune. Today's edition of the newspaper profiles Carolyn (Waller) Hardin Heagey, an organist and teacher and member of DePauw University's Class of 1951. "I love the incredible patience and all the talent that goes into creating," Hardin Heagey tells the paper.
Becky Richards writes, "As a teenager, she played organ at Hyde Park Methodist Church, where her father, Harry Waller, was the minister. She was 14 when she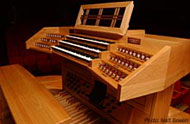 played at Mary Lou Boon's wedding in 1945. 'She was really sweet, and she could really make that organ roll,' said Boon, 79, of South Tampa. Hardin Heagey went on to major in organ and minor in piano at DePauw University in Indiana, graduate from the former Philadelphia Conservatory of Music, marry twice and raise five children and six stepchildren. She directs the choir and plays organ at Bayshore Presbyterian Church and teaches more than 20 students a week at home. She started at the church in 1971 and began the lessons when her children went to college."
The article continues, "With some encouragement, Hardin Heagey said she could have been a concert performer. She opted to put family first, working in churches and being active in the PTAs at Gorrie Elementary, Coleman Middle and Plant High schools.
She also was pianist and organist for the Tampa Oratorio Society until a few years ago. She estimates she has taught piano to 350 students, ages 6 to their 70s. 'It's a very enriching thing to do,' Hardin Heagey said. 'To teach someone to be an active musician, not just a listener, is most satisfying.'"
Access the complete text at the newspaper's Web site.
Back