Posse Program and DePauw's Participation Spotlighted in Chicago Sun-Times
June 27, 2005

June 27, 2005, Greencastle, Ind. - A Chicago Sun-Times story on the first class of Chicago-area Posse graduates notes, "Thirty-one started Carleton, DePauw and Denison in 2001, and 80 percent graduated this year; 23 of those grads are [Chicago Public Schools] alums. Every year since 2001, new Chicago area posses have headed off to one of six colleges." The newspaper reports the students all received "scholarships through the New York-based Posse Foundation, which helps disadvantaged students from around the country make it to -- and through -- college."
The Sun-Times' Kate N. Grossman writes, "Statistically, the odds were against them. Nationally, just 54 percent of college students earn degrees within five years. For Hispanics, it's 42 percent; for blacks, 36 percent. But nationally, 90 percent of Posse Foundation students graduate in five years. The scholarship is crucial, but key to their success is being part of a group, the students said. Each scholarship winner arrives on campus as part of a 'posse' of 10 or so students from diverse backgrounds. Each posse comes from the same region. About 1,200 Posse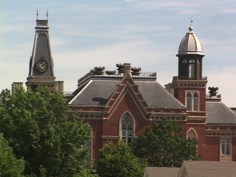 students from around the country are enrolled at 23 colleges now."
Read more at the newspaper's Web site.
The October 18, 2004 issue of People magazine noted DePauw's Posse participation and captioned a photo of two 2003 DePauw graduates with: "Students like DePauw University graduates Melissa Reyes and Paolo Romero 'help change the way people understand diversity,'" with the quote coming from the Posse Foundation's founder, Deborah Bial. Learn more in this previous story.
Back