The Deal Profiles "Mover and Shaker" Scott Ullem '89
August 8, 2005
August 8, 2005, Greencastle, Ind. - "Ask any Chicago banker and he'll boast that the best bankers in town were grown in Midwestern soil. Maybe that's part of the reason why Banc of America Securities LLC considers Scott Ullem, a former Goldman, Sachs & Co. managing director, a good bet to succeed in the newly created position of head of Midwest industrial corporate and investment banking," notes The Deal of Ullem, a 1989 graduate of DePauw University, who is profiled as a "mover and shaker" by the business newsweekly.
"Ullem, a native of Des Moines, Iowa -- 'The Big 'D,' the city of lights, the city that never sleeps,' he jokes -- is the point man for BofA's plan to have its team of 25 Chicago-based industrials bankers take market share from rivals like Goldman, Morgan Stanley,
Credit Suisse First Boston, Deutsche Bank Securities and UBS Investment Bank, all of which have significant industrials efforts in Chicago," The Deal reports. "In his new job, Ullem, 38, oversees both investment and commercial bankers, which creates a new set of responsibilities for a career Goldmanite."
Heidi Moore and Dennis Fitzgerald write, "Ullem thrived at Goldman, according to bankers, working with clients such as 3M Corp., Rockwell Automation Inc. and Bemis Co. But within Goldman's crowded hierarchy, there was little room for him to lead a business, which he says was his ultimate ambition. Enter BofA. Ullem joined Goldman in New York after graduating from DePauw University in 1989. After two years, he moved to the Chicago office, where he was a financial analyst on the Hank Paulson-led team that broke up the Sears, Roebuck & Co. financial network. He went to Harvard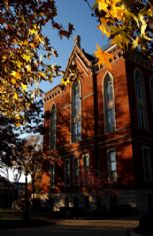 Business School in 1992 and rejoined Goldman in New York in 1994. Two years later, he returned to Chicago for Goldman."
In his new role, Ullem will oversee various industrials subsectors for the big bank in Chicago, including aerospace and defense, transportation and logistics, chemicals, automotive, basic materials, packaging and diversified industrials." He is quoted as saying, "The industrial companies are no longer viewing Asia, and China in particular, as a source of manufacturing, but as an end market in and of itself."
Access the complete piece (a paid subscription is required) by clicking here.
Read more about Scott Ullem in this previous story.
Back