On-Campus Child Care Facility to Open August 24
August 9, 2005
August 9, 2005, Greencastle, Ind. - By month's end, DePauw University faculty and staff will have access to on-campus child care, and members of the Greencastle community will have another child care option, under an agreement announced today between DePauw and New Pathways Preschool. Effective August 24, New Pathways, which already provides child care at 2010 Zinc Mill in Greencastle, will open a satellite facility on the DePauw campus at 806 Lincoln Street, located just south of the Lilly Center. New Pathways will operate the facility -- which can accommodate 12 to 16 children, from infants to three-year-olds -- and DePauw provides the building, which is currently being renovated and upgraded.
"This is, I think, great news for DePauw parents and for other parents who have very young children and live near the campus," says Paul S. Schmitt, director of human resources at DePauw. "Establishing a traditional, year-round day care facility on campus was one of the major recommendations of the Task Force on the Status of Women at DePauw. Many people on this campus have worked very hard over the past few years, offering ideas on what the University's needs are and considering proposals to make on-campus child care a reality. I thank them for their dedication and patience and am thrilled that we'll have the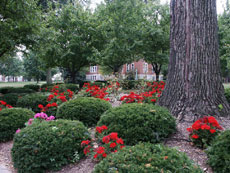 facility up and running in time for the start of the academic year."
DePauw is in the midst of making approximately $100,000 in renovations to the building that will house the New Pathways satellite facility. It will provide child care at a rate of $160 per week for infants; $140 per week for toddlers. A one-time registration fee of $50 will also be assessed. Hours of operation will be 7:30 a.m. to 5:30 p.m.
"I'm delighted that New Pathways can now provide a second location in Greencastle that provides early education and care of the highest quality for local families," says Mary Jane Scamahorn, owner and director of New Pathways Preschool. "We have experienced care providers who enjoy working with infants and toddlers and know how to provide high quality care that meets all licensing regulations. Demand for child care is very strong; indeed, we had a waiting list last year. Adding this second option will meet a huge need for DePauw families, and others who live near the campus."
"In our work, women and men both reported that there was a crucial need for high quality infant care -- which is extremely difficult to find in Greencastle -- and this has been creating a great deal of stress on DePauw employees with young children," notes Lisa Hollander, who chaired the Task Force on the Status of Women at DePauw and is vice president for development and alumni relations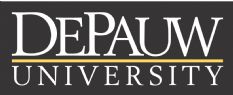 at the University. "DePauw's ability to attract and retain the very best professors, administrators and staff will be enhanced by today's announcement."
For more information on the New Pathways Preschool satellite facility at DePauw, call (765) 653-0841. DePauw employees who wish to learn more about the program can call Felice Herrera-Kish, benefits administrator, at (765) 658-4178 or send her an e-mail here.
Back