'Poshlust,' Exhibition of Recent Sculpture by Prof. Lori Miles, at Peeler Center August 24-September 25
August 15, 2005
Also: 'Material Minutiae' of New Orleans Artist Sally Heller, August 24-December 4; 'Figures of Thinking: Convergences in Contemporary Cultures,' September 14-December 4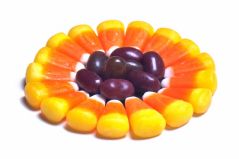 August 15, 2005, Greencastle, Ind. - "Poshlust: Recent Sculpture," features the work of Lori Miles, assistant professor of art at DePauw University. This exhibition will be on view at the Richard E. Peeler Art Center at DePauw University from August 24 through September 25, 2005. You're also invited to an opening reception with a talk by the artist on Wednesday, August 31, from 4 to 6 p.m., which like the exhibition, is free and open to all. (at left: Candy Flower II; this and the two images below courtesy of istockphoto.com)
"Poshlust is not only the obviously trashy but also the falsely important, the falsely beautiful, the falsely clever, the falsely attractive," wrote Vladimir Nabakov, who popularized the term. Poshlust is kitsch that thinks it is not, whereas straightforward kitsch is almost transparently trashy and, therefore, wholesome in comparison. Nabakov stated that poshlust "is especially vigorous and vicious when the sham is not obvious and when the values it mimics are considered, rightly or wrongly, to belong to the very highest level of art, thought or
emotion." (at right: Match Stick Tower)
Artist Lori Miles toys with Nabakov's notion of poshlust by basing her sculptures on images found on the Web site istockphoto.com, which buys and sells royalty-free, unlicensed photos. The stock photography found on the site is intended to be open to interpretation; oftentimes, designers add copy to the image to define its meaning. The objects photographed are common, are shot in extreme close-ups, at unusual angles, and are saturated with color, imposing an aura of attractiveness and importance. Candy, cardboard boxes, and pencil shavings are part of stock photography's visual vocabulary, and are dressed up in the finest stylings of poshlust.
"I looked at every one of their 40,000+ images," says Miles. After scouring the istockphoto.com archives, she singled out the most benign and pedestrian objects, such as nails, vases and crumpled paper. Working from selected images of these objects she created sculptures, installations, and drawings; other stock images were printed for display as 'readymades.' By exhibiting a slickly produced stock photograph next to a sculpture blueprinted from a stock image, she illustrates how style and image can become more important than the object itself. Miles takes lowbrow items that have been instilled with high-class style and creates artworks that leave us wondering if we are looking at winking kitsch, or oblivious poshlust. (at left: Balloon Bunny with Clipping Path)
Lori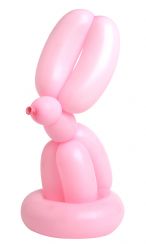 Miles joined the DePauw faculty in 2004. Her work has been exhibited at the Bodner Art Gallery and Herron School of Art, Indianapolis; the Dairy Barn, Athens, OH; Nathan D. Rosen Gallery, Boca Raton; the Swope Museum of Art, Terre Haute; and the Wood Street Gallery, Chicago. Miles is a recipient of a 2004 Indiana Arts Council Individual Artist Grant.
A brochure will accompany the exhibition, with an essay written by DePauw University assistant curator Christopher Lynn.
The galleries at the Richard E. Peeler Art Center are open Monday through Friday from 9 a.m. to 4 p.m.; Saturday 10 a.m.-4 p.m.; and Sunday 1-5 p.m. For more information, call the gallery information line at (765) 658-4882 or visit the Peeler Art Center galleries online by clicking here to learn more about special events associated with this exhibition.
Back