DePauw Mourns the Passing of Prof. Emeritus Donald "Jack" Cook
August 16, 2005
August 16, 2005, Greencastle, Ind. - Donald J. "Jack" Cook, professor emeritus of chemistry and a fixture on the DePauw campus and in the Greencastle community for sixty years, passed away yesterday at age 90. His wife of 66 years, Marion Louise (McCauley) Cook, was at his bedside. Among his many contributions to the University and his community, Dr. Cook worked tirelessly and successfully to bring world attention to the work of Percy Lavon Julian, the legendary chemist and the professor's good friend, who graduated from DePauw in 1920 and later worked for the University.
A native of Rock Island, Illinois, Jack Cook received a B.A. degree from Augustana College in 1937. After earning a Master's degree at the University of Illinois in 1938, he spent several years as an industrial chemist and also served for one year as an instructor of chemistry at his Alma Mater. He was honored in 1967 with a Distinguished Alumni Award from Augustana College.
In 1942, Cook began his doctoral studies at Indiana University and earned his
Ph.D. in 1944. After one year with the Lubrizol Corporation in Cleveland, Ohio, Dr. Cook joined the staff of the Chemistry Department at DePauw University in July, 1945. He would stay at DePauw University for the rest of his career, as a full-time staff member for thirty-five years (including 13 years as department chairman) and a part-time instructor for another five years until 1985. "I felt called to teach as some men feel called to preach," the professor said.
In the twenty years hence, as Professor Emeritus of Chemistry, Jack Cook continued to an active member of the University and Greencastle community. He was honored by DePauw February 12, 2005 with a 90th birthday celebration.
"In the life of this University, which extends almost 200 years, there have been numerous individuals who dramatically impacted the life of the school. Jack Cook was one such person," says DePauw President Robert G. Bottoms. "Over my 19 years in this position, I can't count how many alumni have told me that Jack was a major influence on their lives -- at DePauw and throughout life. His smile, sharp mind and trademark bow tie will be greatly missed by all of us, but he leaves a proud legacy for DePauw, Greencastle, and, of course, his family."
Dr. Cook and his wife founded the Heritage Preservation Society of Putnam County, Indiana, and he was an active member of the Putnam County Historical Society.
The professor's influence on education was extensive. In 1958, Dr. Cook initiated the National Science Foundation Summer Program for the Improvement of Teaching Science and Mathematics in the Elementary Schools.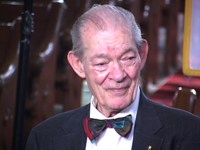 This program, which he directed, involved the attendance of over 1,000 teachers in twelve summer institutes, including two conducted in Europe and one in South America. He also initiated the Summer Research Program for Chemistry Majors, supported by the National Science Foundation during the years 1963-1969 and 1971. The various proposals he submitted to the National Science Foundation during his years of tenure resulted in over $800,000 in grant monies for various summer institutes, science equipment, and chemistry research programs.
He served the American Chemical Society as a Visiting Associate for its Committee on Professional Training, and from 1959 through 1964 as a member and chairman of the Visiting Scientist Committee for its Division of Chemical Education. During these years he made over 30 visits to liberal arts colleges as a Visiting Scientist. In 1961-2 he was a member of the staff of the National Science Foundation in Washington D.C., as an associate program director in the Course Content Improvement Section.
Among Professor Cook's other professional activities was a summer research appointment at the National Laboratory in Oak Ridge, Tennessee, in 1951; a year of postdoctoral research as a Naval Research Fellow at Purdue University in 1952-1953; and a Visiting Professorship at Indiana University in the summer of 1963. A member and Fellow of the Indiana Academy of Science since 1945, he served as President of the Academy for 1976. During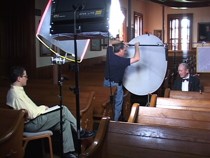 these years he taught courses for students of general chemistry, organic chemistry, and separate chemistry courses for nurses, teachers, and liberal arts majors. His experience in conducting research in organic chemistry with senior majors and graduate students resulted in a number or articles in chemical journals. In 1974 he authored a textbook, Elements of Chemistry.
Jack Cook also helped the world better understand the contributions of the legendary chemist Percy Lavon Julian, a 1920 DePauw graduate who later worked as a research associate at the University. The Cooks, who maintain a relationship with Dr. Julian's family, were interviewed for a PBS NOVA documentary on Julian which has been compiled over the last few years and is scheduled to air in the spring of 2006. In 1976, the professor initiated the Percy L. Julian Memorial Lecture Series, and his efforts helped convince the U.S. Postal Service to issue a stamp honoring Dr. Julian in 1993. Professor Cook spoke at the Chicago ceremony marking the release of the commemorative stamp on January 29, 1993 (access the video here).
Jack Cook's influence can also been seen on the DePauw campus. He spearheaded the successful effort to have the cornerstone and columns from the old Minshall Laboratory placed near their original site; worked to ensure that artifacts in the original Percy L. Julian Science and Mathematics Center were preserved and placed in the building once its restoration was complete;
and wrote an extensive history of the chemistry department at DePauw.
In addition to his wife, Dr. Cook is survived by two daughters -- Dr. Christine Cook Shriner (wife of Prof. William Shriner) of Bloomington, Ind., and Prof. Hope Cook (wife of Jon Carlstron) of Bayfield, Wisconsin; and two grandchildren -- Ian Cook Carlstron and Elspeth Cook Carlstron of Mankato, Minnesota.
There will be no visitation. Plans for a memorial service will be announced shortly. At the family's request, gifts in Dr. Cook's memory may be made to the Donald J. Cook Scholarship in Chemistry at DePauw University, which was initiated by the family of Dr. Percy Lavon Julian.
(top photo by Marilyn E. Culler)
Back